Cheap Food to Buy When Broke: The Best Foods for a Tight Budget
This post may contain affiliate links. Please read how we make money for more information.

Food is expensive – yet we can't live without it. Everyone needs a steady intake of food and water to have the nutrients they need to build and fuel their bodies.
But what do you do if money is tight and you can't afford much? What then?
Thankfully, you do have options. There are some foods you can buy that aren't very expensive. If you are willing to cut back on eating out and eat all of your meals at home, it's definitely possible to get plenty to eat on a tight budget.
Before we review the list of cheap foods to buy when broke, I want to discuss a great way that many save even more on their meals – $5 Meal Plan.
$5 Meal Plan
It's one thing to save money by buying bargain food, but you may be able to save even more by planning your meals. A great service that helps you do that is $5 Meal Plan.
$5 Meal Plan is a brilliant service that sends you weekly meal plans with a corresponding shopping list. All of the meals are designed so that they can be made for as little as $2 per person or less.
$5 Meal Plan isn't just good for making cheap meals. By following the meal plans and only buying the ingredients you'll need at the grocery store, you may be able to save even more. The shopping lists help you to be laser-focused while you are at the store so you can get the things you need while avoiding things you don't need.
The great thing about $5 Meal Plan is that you can try it out completely risk-free for 14 days. If you try it and decide not to continue the service after 14 days, no problem. There's no obligation to continue.
Start your free trial of $5 Meal Plan today to see how it can help you save money.
Let's take a look now at the best cheap foods to fill your grocery cart with to save money.
1. Eggs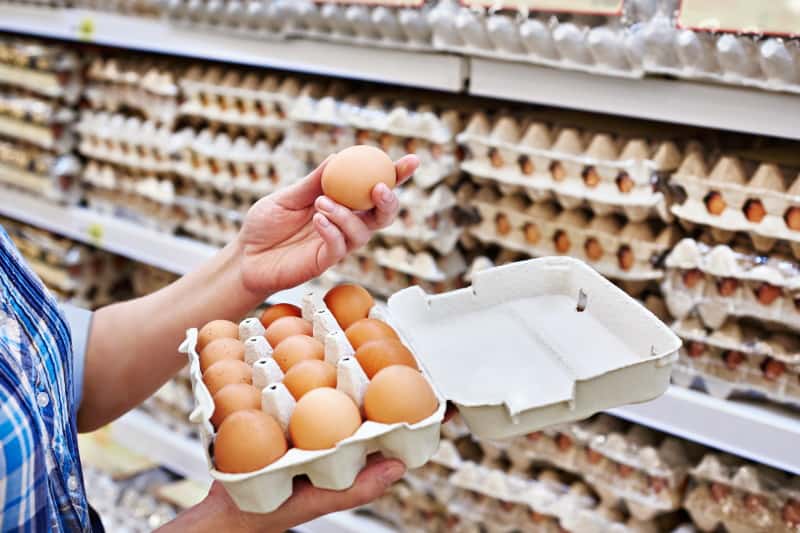 Eggs are one of the most versatile foods there is. They can be enjoyed as a meal by themselves, and there are many different ways you can fix them (scrambled, boiled, over easy, poached, etc.). You can also make an omelet from your veggie or meat leftovers.
Eggs are also an important ingredient in many different recipes. An internet search for "egg recipes" turns up a nearly endless selection. When shopping for eggs, be sure to open a carton before buying it to make sure none of the eggs are broken.
2. Lentils
Lentils are legumes that are very similar to peas, garbanzos, and peanuts. They have been popular in many societies throughout history. They have even been found in Egyptian tombs.
Lentils are very inexpensive. Depending on how often you eat them, a generic bag of lentils could last a while.
3. Popcorn
Everyone needs something to snack on – even those on a tight budget.
Popcorn is a very inexpensive snack food, but it's important to point out that I'm not talking about those packs of microwave popcorn that you pop in your microwave oven for a couple of minutes. I'm talking about bags of popcorn kernels.
Most people prepare popcorn kernels in either a skillet or a special popcorn popper. Sure, it's not as convenient as popping popcorn in a microwave, but it's a very affordable way to enjoy a delicious snack.
4. Beans
There are many different types of beans you can buy that are very inexpensive – especially if you buy bags of dried beans and cook them yourself. Beans can be added to chili, soups, tacos, and other meals, or used as a side dish.
5. Bananas
Bananas are among the cheapest fruit there is, and there are many different ways you can eat them. Bananas are the perfect snack choice for those who are in a hurry or are on the go. They come in their own natural wrapper that can be easily and quickly removed, and they are very nutritious as well.
Bananas are a great addition to many smoothies. They can also be added to your oatmeal or cereal for extra flavor. A banana can even be a quick meal for those who don't have much time. I used to take bananas to work with me all the time, and they kept me from going hungry when I didn't have time to take a proper lunch break.
6. Oats
Oats are another inexpensive menu option to consider. Most people are familiar with the instant variety, which are quick to prepare and eat. Oats are also an ingredient in many affordable recipes. They can be found in oatmeal cookies, oatmeal bars, and even some dinner recipes.
7. Rice
When you are looking to buy cheap food, rice should be high on your list. Whether you prefer white or brown rice, this inexpensive food can be enjoyed as a side dish or as your entree. Rice is a popular component of many Asian recipes, and it can even be made into a dessert – rice pudding.
8. Canned Meats
Canned tuna and salmon is a very inexpensive way to get a nutritious meal. They are great sources of protein and can be stored without refrigeration. They also require very little meal prep. Salmon patties, tuna sandwiches, and tuna melts are quick and easy meals to make.
Other canned meats to consider include canned ham, beef, turkey, and Spam. While canned meats aren't everyone's personal favorite, there's no denying that they are affordable.
9. Potatoes
Potatoes are, quite possibly, one of the most versatile foods on the planet. They can be prepared in many different ways, they are affordable, and they taste great. Potatoes can even be a meal all by themselves. Baked potatoes, for example, can be quickly prepared in a microwave oven. They can be eaten plain, with butter, or stuffed with a variety of things for added flavor.
10. Aged Meats
Many people scoff at the idea of buying discounted meats at the grocery store. But meats are a lot like wine – they get better with age. When grocery stores don't sell their meats by a certain date, they often discount them deeply to ensure a quick sale. You can take advantage of this to buy meats for a fraction of their original price.
It's important to keep in mind that these meats are usually still safe to buy and eat, otherwise the grocery stores wouldn't be able to sell them. Regardless of whatever meat it is you are looking for – chicken, pork, beef, etc. – see if you can find some aged meats on the discount rack to save money.
11. Ramen Noodles
Ramen Noodles are a popular staple of college students for a very good reason – they are among the cheapest foods to buy in most grocery stores. Ramen noodles can be eaten as a meal by themselves, or you can add other ingredients to them. Many ramen noodles recipes can be found online.
12. Frozen Vegetables
Frozen vegetables are just as nutritious and tasty as fresh produce, but for a fraction of the price. The main reason why fresh produce is so expensive is due to the shipping costs. It's difficult to keep produce fresh when it's being transported long distances.
Frozen vegetables, in comparison, are usually prepared and frozen close to the source, thus dramatically lowering the transportation cost. As long as they are shipped and stored in a temperature-controlled environment, they will remain fresh for a long time.
Some people claim that frozen vegetables aren't as good as fresh produce, but this is debatable. If you are unsure of whether your family will like frozen vegetables, try a taste test. You could, for example, add some frozen vegetables to a meal and see if anyone notices a difference. If not, you've got an affordable winner.
13. Pasta
In general, pasta is a very inexpensive food to buy on a budget. It is also very easy to prepare. You could add some frozen mixed vegetables to some pasta, for example, to have a very simple and inexpensive meal that takes very little time to make.
14. Yesterday's Baked Goods
Similar to buying aged meats, buying baked goods that are a day or two old is a great way to save big on pastries, cakes, cookies, breads, and other baked items. When these items don't sell by a certain date, grocery stores mark them down significantly to ensure a quick sale.
15. Peanut Butter
Peanut butter is another versatile item that can be used in many different ways. It can be used in a classic peanut butter sandwich for a quick meal (with jelly, banana, or something else). But it can also be used to make many delicious desserts including cookies, brownies, granola, cupcakes, fudge, and others.
16. Apples
Although usually a little more expensive than bananas, apples are one of the cheapest fruit options there is. When shopping for apples, bags of apples are usually a better deal than buying individual apples.
Apples are great to eat by themselves as a snack, but they can also be made into pies, cobblers, crisps, turnovers, apple butter, and other delicious treats.
17. Ground Turkey Instead of Ground Beef
I probably don't have to tell you how expensive ground beef is these days. And there are so many recipes that call for it. You may be able to save money by substituting ground turkey instead of ground beef.
Not only is ground turkey usually more affordable, but most people won't be able to tell the difference once it's added to your recipe because of the other ingredients. The taste of ground beef and ground turkey is very similar. In fact, you may even enjoy turkey burgers.
18. Carrots
Carrots are a very affordable vegetable you can add to your meals. They can be added to salads, soups, stir-fries, rice, pasta, and they also make a great side dish. Some people even like to snack on uncooked carrots.
19. Milk
Milk can be relatively affordable, but you have to go with the store brand instead of the name brand. In addition to drinking milk, it's also an important ingredient in many recipes. it's great to add with oatmeal, cereal, porridge, pudding, and other treats.
Don't forget about powdered milk, which is great for cooking, making smoothies, and many other things. Powdered milk is usually much more affordable than fresh milk.
20. Mac and Cheese
It's not fancy, but boxes of mac and cheese are very inexpensive. Mac and cheese can be a meal all by itself, or it can be a side dish. It's quick and easy to fix, and it's easy to store in your pantry or cabinet.
Additional Ways to Save on Groceries
By planning your meals with $5 Meal Plan and buying budget foods, you may be able to save a lot on your groceries. However, there are other ways to lower the cost even more that are worth discussing. You may be able to buy even more food on a budget if you use some of these strategies.
Let's check them out…
1. Buy Store Brands
Name brand grocery items are usually much more expensive than generic store brands. And not only that, but most people can't tell the difference between name and store brands if they don't know they are eating store brands.
Here's something else to consider – many store brands are actually name brand products that just have different packaging and labels. Surprised? Don't be.
Think about it – most grocery stores don't have big food processing plants. They have to get their products from somewhere. They often make arrangements with other brands to buy products in bulk (at a discount) and to use their brand and label instead of the company they are buying the products from. This practice is very common and is known as private labeling.
2. Shop at Discount Grocery Stores
The type of grocery store you shop at can make a big difference in how much you end up paying at the register. Some stores are more expensive than others.
The big chains with their fancy stores are usually the most expensive. This is because it takes a lot of money to build and maintain those stores. All of the employees that are needed to run those stores aren't cheap, either.
Discount grocery stores, on the other hand, have lower overhead. They are more affordable to operate. These stores will never win any awards for their looks — but they will win you over with their low prices.
3. Use a Shopping List
Many grocery stores use a lot of tricks to get you to buy as much as possible while you are there. They make certain products look irresistible and present deals that seem too good to pass up.
But you have to be very careful when grocery shopping to make sure you don't give in to the marketing gimmicks many stores use. If you don't go shopping with a plan, you could very easily spend a lot more than you intended.
Using a shopping list is a great way to stay on track at the store. If something catches your eye that is not on the list, don't buy it.
When you sign up for $5 Meal Plan, the service gives you a shopping list each week to buy the ingredients you need to make affordable meals.
Check out $5 Meal Plan to see how it can save you money on groceries.
4. Don't Just Shop at Eye Level
Grocery stores know that most people shop at eye level. This just means that most people look at the products that are right in front of them and don't bother to check out products above and below that level. Knowing this, grocery stores like to place their most expensive products at eye level.
You may be able to save some money by checking out all products above and below the ones that first catch your eye when shopping. That's where you will find the best deals.
5. Time Your Shopping Trips
Another strategy to save money while grocery shopping is to time your trips so that you shop when things are on sale. Many grocery stores have a certain day of the week that they lower prices to move older inventory to make room for newer products.
Not all grocery stores put their products on sale on the same days. The most common day that they do this is Wednesday, but it could be another day, too. If you aren't sure what day your local grocery store puts products on sale, just ask someone who works there.
Also, on sale day, be sure to pick up a flyer at the front of the store. Sales flyers tell you exactly which products are discounted so you don't have to search for them. This can save you a lot of time.
6. Check the Clearance Isle
Checking your grocery store's clearance isle while shopping is another way you may be able to save money. Many grocery stores have clearance isles where they place items they have marked down to sell them as quickly as possible. Sometimes these products are deeply discounted.
Be sure to check your store's clearance isle every time you go shopping. The products that are on sale will be different from week to week.
7. Shop at Your Local Farmers Market
Farmers markets are great places to find deals on fresh produce and other things. Not every vendor is going to have great deals though. Some will be more expensive than grocery stores, while others will have great prices.
Another benefit of shopping at farmers markets is that you can get to know the vendors and develop relationships with them. Some of them may offer discounts if you shop with them regularly.
8. Participate in a Store Loyalty Program
Many grocery stores now have loyalty programs where you can get a discount on your groceries just by swiping a loyalty card at the cash register. These loyalty programs usually don't cost anything to participate in.
To inquire about signing up or to ask if your grocery store has a loyalty program, talk to someone at the service desk. You may have to fill out a form, and you will either be given a loyalty card at the service desk or one will be mailed to you at a later date.
9. Go Shopping Alone
When you are grocery shopping, you need to be able to concentrate fully on your task of finding the best deals on products. The last thing you need is to be constantly distracted. Because of this, it's best to go grocery shopping by yourself (if possible).
Leave the kids home.
When shopping, children often ask for things that catch their attention. And sometimes it's hard to say no. This can result in you spending more money than you planned on. Yes, sometimes you have to take your kids with you when you are grocery shopping – like when you don't have anyone to watch them. But you may be able to save money just by going it alone.
10. Eat Before You Shop
Before you go grocery shopping, make sure you have some food in your stomach – even if it's just a light snack. If you go grocery shopping when you are hungry, you may end up buying more. It's hard to only put the things in your cart that you need when your stomach is growling.
Grocery Shopping on a Budget
As you can see in this list of budget foods, you definitely have plenty of options to eat well on a tight budget. You don't have to spend a lot of money to fuel your body.
And if you're feeding a family, definitely consider trying $5 Meal Plan to see how it can help you save money with low-cost meal plans and shopping lists.
Bargain food doesn't mean that you have to eat bland, uninspiring meals. With a little creativity, you can eat delicious meals that are both satisfying and affordable.