Crafts That Make Money – The Top DIY Crafts for Selling
This post may contain affiliate links. Please read how we make money for more information.

Are you someone who enjoys making craft items that are just as beautiful as they are functional? Perhaps you make striking homemade jewelry, or maybe you've been knitting or sewing for years and can make beautiful pieces that you just know people would love to wear. Maybe woodworking is your thing and you make amazing bowls, frames, and other wooden works of art.
Whatever it is that you specialize in, you are probably intrigued by the idea of making crafts for money. Perhaps you saw some craft items for sale at a tourist attraction, flea market, farmers market, or somewhere else and thought to yourself, "I could do that."
There are many craft ideas that sell. The great thing about selling your own custom creations is that you can start off by making and selling crafts in your spare time as a side hustle. And, depending on how hard you work and market your creations, it may be possible to grow it from a hobby business into something more.
The following are 40 crafts that make money. These are some of the best crafts to make and sell that there is.
1. Wind Chimes
Everyone loves hearing the soothing sound of wind chimes on a warm day with a gentle breeze blowing. There's just something about them that many find tranquil and relaxing.
Wind chimes are not difficult to make. There are many different styles to choose from, and they can be made from many different materials.
2. Jewelry
This category is huge, and it isn't possible to cover every aspect of it in this post. There are many different DIY crafts you can make that fall under the banner of jewelry including necklaces, earrings, rings, bracelets, hairpins, broaches, and others.
There are many possibilities for DIY jewelry projects. The great thing about this category is that it's possible to make beautiful pieces that people will love to wear out of inexpensive materials. Because of this, the return on investment (ROI) on homemade jewelry can be very good.
3. Decorative Mugs
Decorative mugs are very simple craft items that many people enjoy. Mugs are popular for drinking coffee, hot chocolate, or for display.
Plain white mugs can be purchased at discount stores and other places for very little. They then become blank canvasses for your creativity.
There are many ways you can decorate mugs. Just a few ideas include nail polish, paint, etching medium, and Sharpie markers.
Depending on how you decorate your mugs, some designs may not be dishwasher safe and will only be suitable as decorations. If this is the case, be sure to let your patrons know which mugs can be used for consuming beverages and which ones are purely decorative.
4. Baby Blankets
Baby blankets are great DIY crafts to make if you are good at sewing or knitting. Everyone wants their babies to stay nice and warm, and because these blankets are small, they usually don't take long to make.
Patchwork blankets are one idea to consider. These blankets are usually very beautiful, and because they use scrap material, it's a great way to save money and to get rid of your leftover fabric.
5. Hair Accessories
Another type of craft to make and sell for profit is hair accessories. Most hair accessories are relatively simple projects, but they can also be beautiful pieces depending on your skill and creativity. There are many different possibilities. Just a few include:
Hair bows
Headbands
Hair clip designs
Wedding fascinators
Bridal hair accessories
Ponytail holders
Cheerleader accessories
Baby headbands
Scrunchies
6. Knitted or Sewn Products
This category is huge and is one of the most popular money making craft ideas there is. There are so many possibilities with this category that it isn't possible to cover them all here. If you like to knit or sew, here are a few possible crafts to make and sell for profit:
Afghan Blankets
Scarves
Headbands
Pillow covers
Beanie hats
Knit caps
Dog sweaters
Tote bags
Mittens
Pullovers
7. Scented Candles
Who needs potpourri when you've got scented candles?
Scented candles are always popular, and everyone loves their soothing smell. Some scented candles even smell good when they aren't burning.
In a darkened room, the gentle smell of citrus, cinnamon, jasmine, lavender or vanilla combined with a soft glow can be relaxing or romantic. They make for a great way to unwind after a hard day's work.
DIY scented candles are not difficult to make, and there are many different scents, shapes, and colors to choose from. Although you can use synthetic fragrance oils in your candles, you can also use essential oils if you prefer.
8. Plush Toys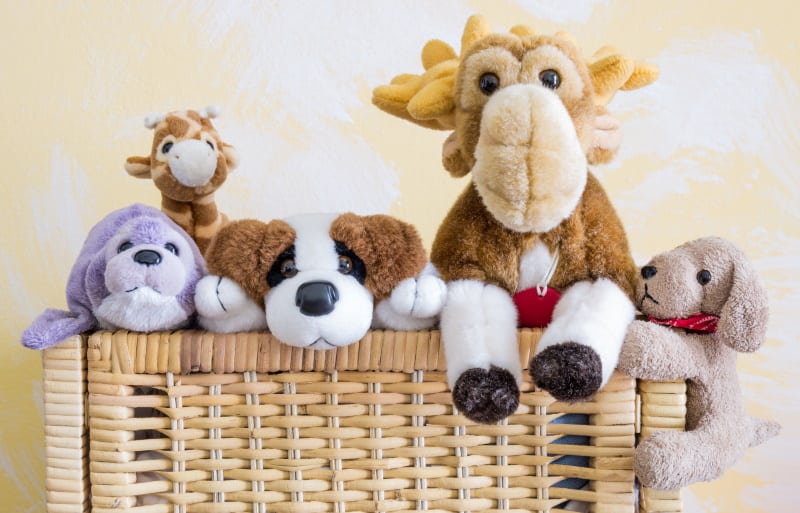 Plush toys are great things to make and sell for profit if you are good at sewing. Kids of all ages love them (they are even popular with many adults). You can really get creative with plush toys, and the possibilities are only limited by your imagination and talent.
The materials to make plush toys are usually not expensive. If you are resourceful, you can make some beautiful plush toys for very little money. Scrap material or old clothes can be used, for example, or you can splurge on new fabric and filler.
9. Wood Pallet Creations
This is one of my favorite craft ideas that sell because you can very easily obtain pallets for free. This means that the return on investment (ROI) for these projects can be very good.
Businesses of all sizes receive merchandise on pallets all the time. And finding free pallets is very easy. In fact, many small businesses have a hard time getting rid of their pallets and would be thrilled to have someone take them off of their hands for free.
Another way to obtain free pallets is to simply advertise for them. You can very easily have leads come to you by placing an ad in Craigslist.
Many different crafts can be made from wood pallets. Just a few ideas include:
Outdoor tables
Coffee tables
Headboards
Radiator covers
Bookshelves
Desks
Welcome signs
Barstools
Clocks
Storage chests
Patio furniture
Picture frames
Kitchen islands
Wine racks
Shoe racks
Pet beds
10. Wall Art
Everyone loves to hang creative works of art on their walls. A bright-colored painting or other work of art can turn an otherwise dull room into a warm and inviting place. This is a category that is only limited by your imagination. Just a few possibilities include:
Framed fabric designs
Fabric on foam boards
Abstract art
Yarn wall hangings
Clocks
Letter wall art
vintage designs
Gold foil designs
canvas art
wood slice wall art
Backlit canvas designs
Wall sconces
Doily wall art
Pallet art
Postcard wall art
11. Blankets and Quilts
Blankets and quilts are very popular crafts to make money from home with. There's just something about a homemade blanket that many people love. These blankets often become treasured family heirlooms that are passed from generation to generation.
Quality handmade quilts can go for hundreds of dollars each. I've even seen some quilts go for over $1k. It's important to point out that quilt making is not a fast process. It does take a lot of time and patience to produce these works of art.
12. Custom Wood Creations
Are you someone who enjoys woodworking? Maybe you already have some woodworking tools. If so, custom wood creations are great craft ideas to make money. Wood craft items are appreciated by many and are often considered works of art.
There are many possibilities for custom wood creations you can make and sell. Just a few to consider include:
Bowls
Clocks
Storage boxes
Sewing boxes
Vases
Cutting boards
Shoe organizers
Coat and hat racks
Spice racks
Children's toys
Chess and checkers boards
13. Dog Beds
Many people treat their fur babies as members of the family. Because so many form such strong bonds with their dogs and cats, they often want the best form them.
Dog beds are fun projects that don't cost a lot to make. They often combine both woodworking and sewing, but materials other than wood can also be used. For example, I once saw someone who made dog beds from old tires. The tires were thoroughly cleaned and painted and filled with bedding. They were beautiful!
There are many possibilities with dog beds, and with a little creativity, you may be able to come up with some designs that people (and their dogs) won't be able to resist.
14. Printables
Printables are easy things to make and sell for money. They are ideal for those who have websites who are looking for an easy way to make some extra money.
What is a printable?
A printable is anything you can download and print on your printer. Just a few ideas include calendars, budgets, meal plans, planners, encouraging sayings, and others.
The great thing about printables is that there is nothing to ship. When a customer buys a printable from your website, it's possible to automate the process so that you don't have to do anything. The customer can download the printable and you earn money for your design.
To succeed with printables, you do need to have good graphic design skills and be able to use design software like Photoshop, Illustrator, or another graphics design program.
15. Essential Oil Diffusers
Essential oils are very popular. Because so many now use them, diffusers may be profitable crafts to make and sell.
Essential oil diffusers are not difficult to make. The components for some designs are very simple and include such common things as stir sticks, reeds, glue, glass bottles, twine, and other common household craft items.
For glass bottle designs, they are a blank canvas for your artistic creativity. There are many ways you can paint them, or you can wrap them in cord, fabric, or something else.
16. Bird Feeders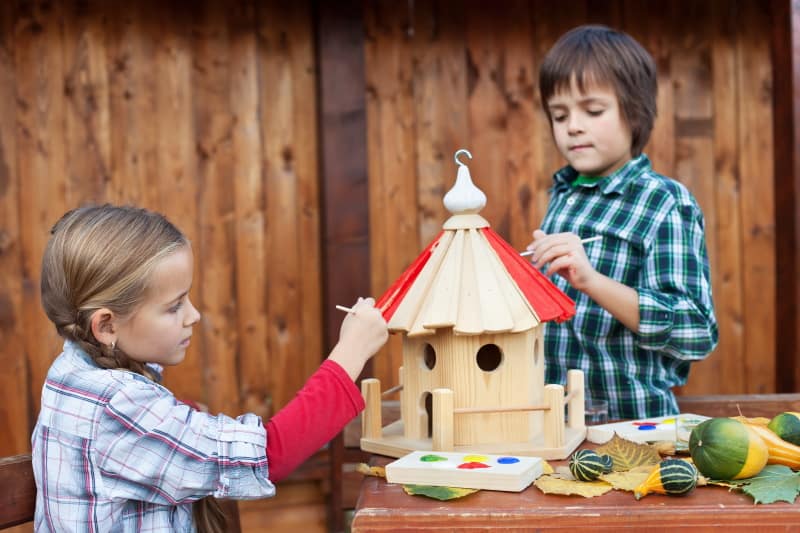 Bird feeders are popular wood crafts to sell online or somewhere else. Because many designs are so simple to make, however, they deserve a separate mention from the custom wood creations section.
Many bird feeders can be made from scrap wood, so the cost can be very low. They can be painted, stained, or left unfinished to acquire a natural weathered look.
17. Book Covers
Book covers are another craft item you may be able to make and sell for profit. Many people like to use book covers to protect books they love and cherish, like valuable books, Bibles, and antique tomes.
There are many different ways to make these covers and different materials you can use. They can be made from fabric, canvas, leather, patterned tape, duct tape, and others. If you are good at drawing or painting, it may also be possible to make eye-catching designs on blank materials.
18. Purses and Handbags
Among the best selling crafts, there are many creative options with purses and handbags to explore. You can make and sell a minimalist bag, for example, or create something more elegant.
There are a lot of interesting designs and materials you can use. Just a few include canvas, feed sack, mesh, cotton, leather, and others. I once saw an interesting handbag design that was made from woven automotive seat belts, for example.
19. Tote Bags
Similar to purses and handbags, large tote bags are another craft you can make and sell for money. Many people these days have environmental concerns and prefer to use reusable tote bags instead of paper or plastic shopping bags when they buy groceries or shop at other stores. Tote bags are often simple designs, and many of the same materials that are used in purses and handbags can be used.
20. Keychains
DIY keychains are often simple crafts that may sell for a few dollars each. While there isn't a lot of profit in keychain crafts, they are usually easy to make and don't require too much time.
With DIY keychains, you will have to buy metal keyrings and then add creative elements to them. Just a few ideas include:
Beads
Tassels
Animal figurines
Letter monograms
Hearts
Wine corks
Glass orbs
Pom poms
21. Aprons
Many people still like to use aprons while they are cooking to prevent things from splashing on their clothes. Aprons can be either simple or elaborate, and different fabrics and templates can be used to create designs that many will find irresistible.
22. Baby Halloween Costumes
Don't you think babies look super-cute in little one-piece Halloween costumes? I know I do. These are great craft projects that are ideal for those who like to sew.
The main downside to this type of craft is that it is seasonal. Halloween only comes around once per year, after all. Nevertheless, it may be possible to make and sell a few of these in the weeks leading up to the big day.
Just a few ideas include:
Monsters
Dinosaurs
Animals
Pumpkins
Bees
Flowers
23. Baby Bibs
This is another idea for those who like to sew. Many people love craft items for their little ones. And it's hard to deny that all babies need bibs to protect their clothes from the inevitable dribbles and spills that happen when they are eating.
24. Musical Instruments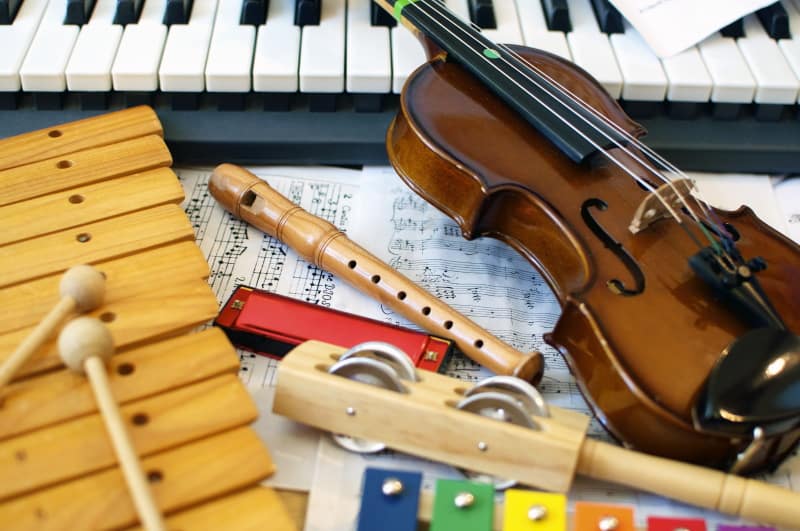 Depending on the instrument, this category could require a great deal of skill – or not. It all just depends on which instruments you choose to build. Making guitars, banjos, and similar instruments are going to require a lot of skill, but there are some simple craft instruments for kids that are very easy to make. A few examples include:
Cardboard tube bells
Easter egg maracas
Hand drums
Tambourines
Rattles
Jingle bell bracelets
Pan flutes
Paper towel roll shakers
Didgeridoos
Castanets
25. Burp Cloths
There are many craft items for babies you can make and sell, and burp cloths are a simple craft for those who like to sew. As every parent already knows, burp cloths are important for protecting your clothes from regurgitated milk when feeding or burping a baby.
26. Beanbags
Beanbags are popular with kids of all ages (even the young at heart). Sitting down in a beanbag and sinking into it is something that never gets old. Because of their popularity, they are hot craft ideas to sell that are worth considering.
Beanbags of different sizes can be made. Small ones can be made for pets, and very large beanbag couches can be made for people to lie down on.
Many different materials can be used for both the exterior and filler. A few examples of cheap filler material include packing peanuts, old t-shirts, and shredded foam.
27. Baby Onesies
Baby onesies are very popular with new parents. These little baby bodysuits are easy to slip on and off and are easy to clean and store. Instead of having to keep up with an outfit, a parent can quickly slip a onesie on their little one and be ready to go in a pinch.
A great idea for onesies to turn them into custom craft items that you can sell is to take a plain onesie and add a funny saying to it. While professional printing equipment is very expensive, it's still possible to hand paint onesies, t-shirts, and other apparel if you choose the right kind of paint. Babies grow fast, and they don't wear the same clothes for long anyway.
28. Mason Jar Tissue Dispenser
A Mason jar tissue dispenser/holder is exactly what it sounds like. It's a decorated Mason jar that holds tissues. Tissues are removed from the box they came in and placed inside the jar. Tissues can be pulled one at a time from an opening at the top.
29. Table Cloths
Table cloths are another possibility for those who are good at sewing. To stand out in the table cloth market, you will have to create designs that are not readily available in stores, like patchwork designs and others.
30. Decorative Serving Trays
There are a couple of options for making DIY serving trays. First, you can make serving trays from wood if you are good at woodworking and have the necessary tools. Second, you can buy plain serving trays and decorate them yourself by painting them.
31. Wood Furniture
If you are skilled at working with wood, creating custom wood furniture pieces is an option worth considering.
If you have been shopping for furniture lately, you have probably already discovered that many pieces are not made from real wood. Rather, they are made from particleboard, plywood, plastic, or something else.
Many people still prefer the elegant look and longevity of real wood furniture. And if you have the tools and skills to create them, you may be able to sell them locally in your community.
Just a few examples of wood furniture pieces you can make and sell include:
Beds
Headboards
Desks
Chairs
Nightstands
Coffee tables
Wine racks
Coat racks
One way you may be able to sell your custom wood furniture pieces is to strike a deal with a local furniture store. You could display and sell your pieces in their store and give them a commission on each item sold. This strategy probably won't work with big chain stores. It's best to try this strategy with locally owned and operated stores instead.
32. Wedding Decorations
The wedding industry is big business. Every bride-to-be wants her wedding to be beautiful, memorable, and perfect in every way. Because of this, some choose to specialize in this niche. The possibilities with DIY wedding crafts are nearly endless, but just a few ideas include:
Decorated bride and groom glasses
Wedding name hangers
Decorative wedding blocks
Wedding centerpieces
Birdseed bombs
Mason jar wedding vases
Vintage wood wedding signs
Wedding shadow boxes
33. Door Wreaths
Door wreaths can add color and charm to an otherwise dull or lifeless door. There's just something about a door with a wreath on it that makes the entire home look more inviting.
The possibilities with door wreaths are nearly endless, and the only limitation on them is your imagination. They can be elaborate or subtle, and they can be made from many different materials, both expensive and cheap.
34. Cat Scratch Posts
Most cat scratch posts are simple and easy to make. They usually consist of little more than a wooden base with an attached pole. They can be finished by gluing carpet to the post or wrapping the pole with rope. Because these tend to be heavy, they may not make the best items to sell online due to the expense in shipping them.
35. Painted Dishes
Painted dishes are another craft to consider if you are good at painting. Most people buy these to hang on walls, and you can add wall hangers to the back of the ones you make. They make great decorations for kitchens but also look good in other areas of homes and offices.
36. No-Sew Pillow Covers
The great thing about no sew-pillow covers is that you don't need any sewing skills to make them. It's right there in the name. With this project, you don't want to just sell pillow covers, you want to sell finished pillows. Pillows can be made in many different sizes, colors, and motifs.
37. Rope Bowls
I'm a huge fan of rope bowls. I just think they look great, and they are ideal for holding fruit, craft supplies, linens, potpourri, or something else.
Rope bowls are also very easy to make. You can use different colored rope to give them a decorative flair, or they can be painted. Some people choose to sew rope bowls while others glue them together.
38. Painted Phone Cases
Because cell phones are very popular (just about everyone has one these days), painted cell phone cases are easy crafts that make money. These are great projects if you are good at painting. And even if you aren't an amazing painter, it may still be possible to make designs that sell by creating abstract designs.
Abstract painted phone cases could be created by splattering paint on cases in creative ways. One idea to consider is to find out what the local school colors are and splatter paint on cases to match.
39. Mason Jar Candles
We've already mentioned scented candles, but candles in Mason jars are popular crafts to make and sell due to the popularity of Mason jar decorations. Popular with people who can foods, Mason jars have been around for decades and are still being made.
40. Painted Laptop Cases
Similar to painted cell phone cases, another option is to paint laptop cases. Laptop cases are larger canvases than phone cases which allows for a greater degree of creativity. Cases can be decorated in many different ways. You can use Sharpie markers, different types of paints, fingernail polish, etchings, and others.
Selling Your Crafts
So you've made some amazing scented candles that you just know people will love. But how do you get the word out that you are selling candles? How do you advertise your products?
To be successful in any business – whether it's someone selling crafts or a large corporation – you have to get the word out that you have products you are selling. Your success as a craft seller depends on how well you market your products, the quality of your products, and how hard you work.
Let's take a look at a few ways you can sell your custom creations. Even if you make the most beautiful stenciled pallet signs in three counties, no one will ever know about your works of art unless you have a way of getting the word out that your products are for sale.
Start an Etsy Store
Etsy is an online platform for those who make handcrafted, custom, or unique arts and crafts. The platform also has a lot of vintage products, too.
Etsy allows you to set up your own store on the platform where you can list and sell your craft items to those who are looking for handcrafted pieces. The great thing about setting up an Etsy store is that people are already on the platform looking for the products you sell.
It's important to point out that it isn't free to list your products on Etsy. The platform does have various fees you need to be aware of before you get started.
It's also a good idea to read through a guide to getting started on Etsy. You do need to familiarize yourself with the Etsy platform, keywords, and other things to ensure your success. Information on getting started with Etsy and tips and strategies to succeed can be found online.
Sell on Amazon Handmade
Did you know that it's possible to sell your handmade crafts right on Amazon, the largest online retailer in the world? You can do this through the Amazon Handmade program.
To participate in the Amazon Handmade program, you have to submit an application and be approved. Approval is not automatic. Amazon does assess the quality of applicants' products and other factors before accepting them.
After being accepted to Amazon Handmade, you can then create your shop and list your products for free. When a product sells, Handmade deducts a percentage of the sale price as its fee.
Another great advantage of selling products on Amazon Handmade is that you can take advantage of Amazon's Fulfillment by Amazon (FBA) program. This means you can ship your finished products to Amazon's warehouses where they will be stored. When someone places an order for one of your products, FBA takes care of picking the product, packing it, and shipping it. FBA also takes care of customer service issues. There are additional fees to participate in the FBA program.
Start a Shopify Site
Shopify is a company that lets you create an online store to sell your creations. Shopify is different from Etsy primarily because Etsy is a platform that has many sellers. With Shopify, however, you pay a monthly fee to set up your own online shop that is independent from other sellers.
With a Shopify store, you will have to market your store and products so that people searching online can find them. People won't buy from you, after all, if they don't know your store exists.
There are several ways you can market your store. You can use paid ads through Google, Bing, and others. Another way to market your Shopify store is to make YouTube tutorial videos where you film yourself making various craft items. You can mention your store in the videos and also include a link to it in the video description box.
Search engine optimization (SEO) is another way to market your store. SEO is just a fancy term that describes getting your store ranked in the search engines for various terms and phrases so that people can find your store and buy from you.
It's important to understand that SEO is not a quick way to get people to your Shopify store. It takes a while for SEO strategies to work. It can sometimes be months or even years before SEO results in traffic to a website. Because of this, it's important to think of SEO as a long-term strategy instead of a quick way of sending customers to your website.
Start a Blog
Another online option to consider for selling crafts you make is to start a blog. You could, for example, start a blog about crafting, frugal living, DIY projects, or something else. In your blog posts, you can give detailed instructions that your readers can follow to create the same crafts that you make.
In addition to blogging about making crafts, you can also sell crafts you make on your blog. If you grow your blog to the point where thousands of people are visiting it every month, you may be able to sell your crafts to your readers.
Sell Locally
Many communities now have farmers markets where local growers sell produce, jams, homemade bread, and other treats. But many farmers markets also have people selling crafts they have made. If there's a farmers market in your area, check to see what's involved in setting up a booth.
Another way you can market your crafts is to sell them through the various online classifieds like Craigslist, OfferUp, Facebook Marketplace, and others. Many communities also have Facebook groups just for local buying and selling.
How well you do selling your products locally depends on a variety of factors like how big of a community you live in, the demand for your products, your prices, and others.
Sell at Craft Shows
Another option to consider if you are looking for ways to sell your crafts is to sell them at craft shows. This will require some traveling, but the benefits of attending these shows aren't just limited to selling. These are also great places to network with other artisans. It's also possible that you may make some important contacts at these shows that could expand your market.
Renegade Craft is a popular craft show to consider. Renegade Craft requires you to submit an application and be approved to display your crafts. Different booth options are available for your budget and needs including full, shared, double, and others.
Maker Faire is another popular craft show. Maker Faire is a little different from traditional arts and crafts fairs. It is a fair for people who make many different things including DIY projects, technical projects, and others. There may be a Maker Faire near you, or you can start one in your community.
Making Money from Your Hobby
There are many craft ideas that you can make money with. It's important to pick craft ideas that have a good return on investment and are not difficult to make. You also want to pick craft ideas that make use of your skills and talents. For example, if you are good at woodworking, you might want to consider concentrating on wood crafts. If sewing is your thing, it might be a good strategy to concentrate on sewing projects.
Many craft items are fun to make. And not only that, but they are a great way to express your artistic creativity. Each new craft you make is a custom creation. It's a blank canvas just waiting to be explored.
How well you do making and selling crafts depends on many different factors including how well you market your crafts, how much competition there is, your prices, the quality of your crafts, and other things. And of course, one of the most important factors for success is how hard you work. You are probably not going to see much success in the craft business, for example, if it's just something you dabble with on occasion.
Crafts are popular for a reason. They are unique, charming, custom works of art that make great decoration items in people's homes, offices, and in other places. If you enjoy making craft items, why not try your hand at making crafts for money? It's a business model that lets you start off small with a modest investment of time and money and grow as you achieve success.