How to Make Money as a Kid – 25 Brilliant Ideas
This post may contain affiliate links. Please read how we make money for more information.

Do you have a child who would like to earn some money? If so, congratulations! In an age when many kids would prefer to play video games, watch TV, and stare at electronic devices all day, you've got a child with the entrepreneurial spirit – a quality that is seldom seen these days.
If your child is itching to make money, it's always good to nurture the entrepreneurial spirit as much as possible. There's a lot of value in learning how money is made at a young age. It teaches responsibility, the importance of hard work, and the value of money.
If you are looking for ways to make money for kids, you might be scratching your head thinking of ideas. But there are more ways for kids to earn money than you might think. In fact, there are some things kids can do that pay surprisingly well.
I've compiled a list of 25 things kids can do to earn money. Some of these are going to be for older kids, while others can be done by younger kids. No lemonade stands, I promise. Ultimately, it's up to each parent to decide which money-making ideas are best for their children.
If you are wondering about how to make money as a kid, then wonder no more. Here are 25 great opportunities to consider:
1. Be a Pet Sitter or Dog Walker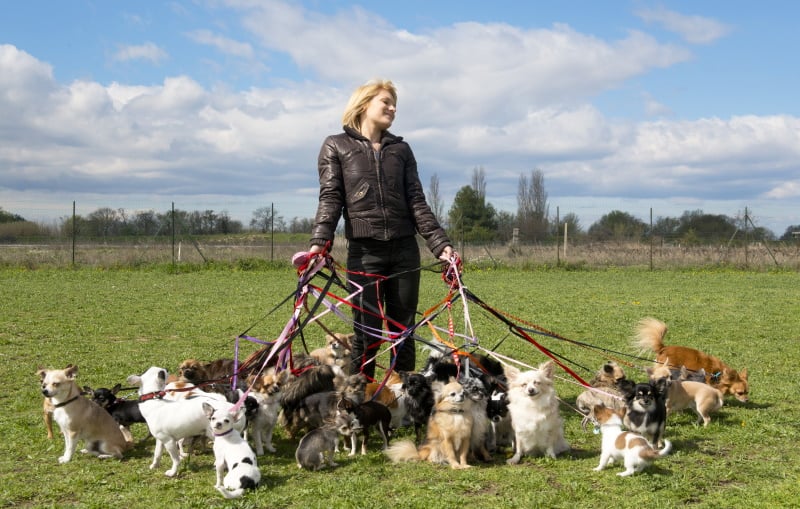 Is your little one an animal lover? Maybe your child makes little furry friends wherever he or she goes. If so, then your child may be able to make money as a pet sitter or animal boarder.
Sometimes people need someone to watch their animals for a few hours while they are away for a meeting, event, or something else. But their dogs still need someone to walk them. For either an hourly wage or set fee, your child may either keep someone's dog or other pet at your home or stay with the pet at its residence to take care of it.
Also, if you have a home with a good place for animals to run around, you might want to consider allowing your child to board animals for days at a time while people are on vacation. Taking care of animals is a big responsibility, of course, and they will need a lot of attention to make sure their needs are met.
2. Animal Grooming
If it seems like just about everyone these days owns a dog, it's not your imagination. Dogs are very popular pets for a good reason – they are great companions. They always seem to know when we're down, they are always happy to see us after a long day at work or school, and they love us unconditionally.
Dogs are often referred to as "man's best friend" for a good reason.
For those who keep their dogs and other pets indoors, the animals do occasionally need to be bathed. And, depending on the breed, they may also need to be groomed.
Bathing dogs is fairly straightforward, but grooming is something that may take some practice. If your child is just getting started grooming pets, he or she could offer to groom a few pets for free at first to get some practice and then start charging after gaining experience.
An important consideration with this idea is the regulations that govern animal grooming. Some states require special certification or licensing to groom animals. Be sure to check with your state and local government to see what the requirements are to get started.
3. Take Online Surveys
Taking surveys in your spare time is a great way to earn some extra cash. Unfortunately, many survey sites require you to be at least 18 years old to participate.
Not so with Swagbucks.
Swagbucks states that children 13 and older can participate in surveys to earn money.
In addition to earning money from taking surveys, Swagbucks users can also earn money by watching entertaining videos and searching the web. When you've earned enough points, you can either redeem your points for gift cards to Amazon, Walmart, and other retailers, or you can get paid for your efforts through PayPal.
4. Mow Lawns
Mowing lawns is a classic way for teens to make money. It isn't easy though – mowing lawns is hard work, especially when it's hot and humid outside. But it's a strategy that pays very well.
How much money a teen can make mowing lawns depends on a lot of factors. The size and difficulty of the lawn are two big considerations. Where you live matters, too. Mowing lawns in a wealthy subdivision, for example, is probably going to pay more than mowing lawns in a middle-class community.
Another factor to consider with this option is whether you will use your own mower or your clients' mowers. If you don't have a way to transport your mower to different jobs, using your clients' mowers may be your only choice.
5. Wash and Detail Cars and Trucks
Many people don't have time to wash and clean their cars, trucks, and other vehicles. After working 40-50 hours each week, the last thing many want to do of the weekends is to take care of chores around the house like washing their vehicles and cleaning the interiors.
That's where your child comes in.
Washing, waxing, and detailing vehicles isn't difficult, but it may take a few hours to get the job done. And it can potentially pay very well, too. Some auto detailing companies charge over $100 to do all three. Not bad for a full day's work.
6. Wash and Detail Boats, Motor Homes, Campers, and ATVs
Cars and trucks aren't the only things that get dirty. Boats, motor homes, campers, and ATVs also need to be cleaned. If you live near a lake or campground, cleaning these recreational vehicles might be a good opportunity for your child.
Motor homes and campers may pay well due to their size. It takes a lot of elbow grease to wash those large vehicles. And it could take a lot of time to clean the interiors, too.
The one drawback to cleaning recreational vehicles is that you may have to do all of your cleaning on location. In other words, depending on where you live, it may not be practical to have the vehicles brought to your home. And if you live in a home with a homeowners' association, the HOA rules may not permit it.
7. Babysitting
This is an opportunity that is probably best suited for older kids.
People need someone all the time to watch their kids while they go out for the evening, for a social event of some kind, a meeting, or for some other reason. The kids can't always tag along to every single event and outing, and babysitters are usually hired to watch them for a few hours at a time.
If your child loves little children, offering his or her services as a babysitter is a great way to earn money. The pay varies depending on where you live and your experience. It also may be possible to negotiate a higher rate for last-minute or emergency babysitting work.
8. Do Odd Jobs
People in your neighborhood may need someone on occasion to help them with odd jobs. Just a few examples of things kids can do include raking leaves, helping people box or unpack during a move, waterproofing wooden decks, pulling weeds, cleaning garages, and cleaning pet cages and aquariums. There are many possibilities with this idea.
To get the word out that your child is available for odd job work, your child could post a notice on his or her Facebook page, put fliers on windshields in your neighborhood, or go door-to-door offering his or her services.
9. Do Yard Work (Other than Mowing)
Mowing is a great way for kids to earn money, but kids can also earn money by doing other types of yard work like raking leaves, pulling weeds, mulching, trimming bushes, sweeping sidewalks, fertilizing, planting, and many other things.
One way to land work doing these things is to simply ask your lawn mowing clients if they need any extra help with any of these things or if they know anyone who needs help.
10. Paint Things
Is your child good at painting things? No, I'm not referring to creating works of fine art. I'm talking about painting fences, walls, shutters, porches, patios, and other things around people's homes.
Painting is another household project that many homeowners would rather pay someone to do than try to tackle themselves. Painting isn't difficult, but it can be slow and tedious work, especially if there is a large surface area to cover.
11. Tutor Others
If your child is talented in a particular subject, he or she may be able to earn some extra money by tutoring other students who are struggling. It could be any subject studied in school including mathematics, science, spelling, or something else.
As a tutor, your child could meet students who need help at your home, at the struggling student's home, or possibly at a public library. Tutoring could also include extracurricular activities like playing a musical instrument or sports.
12. House Cleaning
Many people don't have the time to clean their homes. Either that or they just don't want to. House cleaning isn't a fun job, and many homeowners would much rather spend their days off doing more interesting and exciting things than vacuuming, sweeping, dusting, and washing.
This is another idea that is probably best suited for older kids.
As a house cleaner, clients may provide all of the cleaning supplies your child needs, or your child may be required to provide his or her own.
13. Clean Carpets
Those who clean houses may also want to consider deep cleaning carpets as an additional service. Cleaning carpets involves vacuuming carpets, applying a special carpet shampoo, and then vacuuming the flooring again. It's not difficult work, but it can take a while to complete a job if there is a lot of floor area to cover.
If you do offer to clean carpets, you may have to either buy or rent a carpet cleaning machine. There is the possibility that your client may own a machine, but most people don't. If you do have to rent a machine, be sure to factor in the rental cost to your fee.
14. Power Wash Things
If you own a power washer or have access to one, this is another great way that kids can earn money. Not only that, but power washing can even be fun. There's something very satisfying about watching grime get stripped away with a blast of high-pressure water.
There are many things that people need power washed including brick and rock homes, sidewalks, driveways, brick or block retainer walls, and other things. To operate a power washer, you do need to have access to an outdoor spigot. And depending on how far away from the spigot you need to go, it may be necessary to purchase an extra-long hose.
15. Be a Farmhand
There are many different chores on farms that kids can do, like feeding and watering animals, picking produce, running errands on the farm, and pulling weeds. As an added bonus, your child might get to make friends with all of the farm animals.
Farm work isn't always easy, especially when the days are hot and humid. But it can be richly rewarding in many different ways. Your child may even get to bring home some of the farm's produce in addition to being paid for the work he or she does.
16. Shovel Snow
If you live in an area of the country where it snows a lot during winter, your entrepreneurial child may be able to cash in on this every time it snows.
Many people need their driveways and walkways shoveled after a snowfall. Driveways need to be cleared so people can go to and from work. And walkways need to be cleared so people can get to and from their vehicles without walking in a slushy mess.
When it snows, your child could grab a snow shovel and go door-to-door asking people in your neighborhood if they need their driveways and walkways shoveled for a fee.
17. House Sit
This is another opportunity that is probably best suited for older kids.
Many people need someone to house sit while they are away on a vacation or for an extended business trip. House sitters are needed for many reasons including taking care of pets, checking the mail, doing lite housework, mowing the lawn, and ensuring the house looks lived-in to deter thieves.
Although your child will probably have a few things to take care of while house sitting, the job usually isn't too difficult. As an added bonus, your child may be given access to the refrigerator and allowed to eat all that he or she wants.
Another variation of house sitting is farm sitting. As a farm sitter, your child will have some additional chores around the farm in addition to taking care of things at the residence. Because of the extra responsibilities, the pay for farm sitting is usually more than house sitting.
18. Run Errands for Busy People
This is probably another opportunity for older kids, preferably ones who are old enough to drive and have reliable transportation.
Many people live busy lives. In addition to working 40-50 hours a week, they also have other things to take care of. Some even try to have a social life. For many, a lack of time is the most common reason they hire people to clean for them, fix things in their homes that are broken, and run errands.
Running errands is an easy and straightforward way to earn some extra money. When determining a fee, don't forget to include the cost of fuel and wear and tear on your vehicle.
19. Sell Handmade Crafts on Etsy
Many children enjoy creating arts and crafts. After practicing, many become very good at it.
Did you know there is an entire marketplace where people buy and sell handmade art, jewelry, crafts, décor, clothing, and many other things? This marketplace is called Etsy.
Your child may be able to earn some extra money by opening an Etsy shop and selling handmade creations. Be sure to review a guide to getting started on Etsy before opening a store to make sure everything is done correctly and your listings are optimized so people can find them.
20. Become an Instagram Influencer
Did you know that many people earn money on the social media site Instagram? Some earn full-time incomes posting pictures of themselves and their adventures. Shelcy Joseph, for instance, makes $1,600 a month on the side on the social media platform.
There are many kids who earn money on Instagram. Theresa Nguyen, for example, sells homemade slime on Instagram and makes $3,000 a month. In addition to promoting their own products, kids can also make money on the platform by selling their pictures to brands, with sponsored posts, through affiliate marketing, and other ways.
You need to have a strategy to make money on Instagram. It isn't as simple as starting an account and posting a bunch of pictures. Be sure to read through a guide to making money on Instagram before getting started.
21. Do Chores Around the House
Are you currently giving your child a weekly allowance? If so, you might want to consider having your child do chores around the house instead in exchange for money.
Many kids don't understand the value of money, and many assume it just grows on a magical money tree somewhere. By working for the money they receive, children can learn valuable lessons about work and the value of money. These are lessons that will last a lifetime.
If your child wants to earn more money, you could always come up with a few extra chores for him or her to do. If there's something your child wants to buy, for example, your child could do chores for a few weeks and save up money to make the purchase.
22. Fix Things
Is your child always taking things apart and putting them back together again? Maybe your child is naturally gifted at repairing things that are broken. If so, repairing broken things for people might be a way for your child to earn some money.
Things break all the time. And when they do, people often need someone who is skilled at repair work to restore those things to working order without overcharging. If you've priced a handyman's services lately, it's not hard to see how kids can make money by offering the same services at a discount.
23. Have a Bake Sale
Do you have a child who loves to cook? Maybe your child loves to watch cooking shows on TV and is always eager to try out new recipes. If you have an aspiring chef on your hands, one way your child can earn some money is to hold a bake sale.
Sweet treats are usually the best sellers at bake sales. Things like pies, cookies, cakes, and other delicious treats are always popular.
One way to ensure the success of a bake sale is to make it a community event. Invite several other kids to join in on the fun, and ask their parents to spread the word throughout the community and to their friends and family. The more people who are involved in the bake sale, the more potential customers you will have.
Another way to ensure the success of your child's bake sale is to hold it at an event of some kind. Perhaps your child could arrange to sell baked goods at a Fourth of July event in your community, a local sports event, or another event where a lot of people are going to be gathered.
24. Be a Social Media Manager
Many businesses have social media accounts but don't have the foggiest clue about how to manage them. Most kids these days, however, are very savvy when it comes to technology and social media.
Although the name "social media manager" may sound very technical and sophisticated, it's really not a difficult job. It could involve something as simple as posting daily to a business's Facebook account or pinning things to Pinterest.
Taking care of a business's social media presence doesn't have to take up very much time at all. It could even be fun!
25. Give Music Lessons
Is your child a gifted musician? Maybe your child excels at playing the piano, guitar, trombone, clarinet, or something else.
If you have a young Mozart on your hands, he or she may be able to earn money by giving music lessons to other children who are learning how to play the same instrument. Music lessons could be given in your home, or your child could arrange to meet kids at their homes.
Opportunities Abound
Did you realize there were so many different ways for kids to earn money? Not only that, but some of them could even be fun!
When it comes to kids making money, the opportunities are definitely there. Fair warning: Once your child has caught the entrepreneurial spirit, he or she may be hard to stop.
When you teach a child something new, you never know what it's going to lead to. You may just be planting the seeds that lead to your child's future success in business. You could have a future millionaire or billionaire on your hands.