The 30 Best Work From Home Jobs (That Actually Work)
This post may contain affiliate links. Please read how we make money for more information.

In recent years there has been a growing trend where many are transitioning from the traditional corporate life to working from home – and it's easy to see why.
Many companies now recognize that employees working from home can be every bit as productive as those working in an office. And thanks to the internet, many are also starting online businesses of their own that they can operate from the comfort of their homes (pants are totally optional).
Why Work from Home?
There are many benefits to working from home. Work flexibility is one example – in many cases, you can set your own hours. There's also no more commuting to and from work. No more office politics. No more nasty boss breathing down your neck all day long. No more thermostat wars. No more asking for time off just to go see a doctor. And the list goes on and on.
But for many, the number one reason cited for wanting to work from home is to eliminate stress. There's just something about working a traditional job that really stresses a lot of people out.
There are plenty of great options for working from home that pay very well. Many of them don't even require a college degree. Some of these work from home jobs are traditional jobs working for a company that are remote, while others are at-home business opportunities.
If you are interested in discovering the freedom of working from home, the following are some of the best ways there is to make it happen. As you go over these options, keep in mind that not all of them are going to be a good fit for everyone. It really just depends on your personal interests, experiences, and desires.
Another thing to consider as you go over this list is you can earn a full-time income from some of these options, while others are best suited for earning a little extra income.
Here are 30 of the best work from home jobs for you to consider:
1. Flip Products for Profit
Every single day countless people clean out their closets and garages and list things for sale at prices that are far below market value. A flipper is someone who identifies those undervalued products, buys them, and then resells them on eBay or somewhere else for huge profits.
The great thing about flipping products is that it's never been easier to do thanks to the internet and smartphone apps that help you identify undervalued products. It's now very easy to buy and resell products for several times what you bought them for.
Now, I'm not talking about buying something for $2 and reselling it for $20. It would take way too many sales to earn a living like that. It's about buying things for $50 that you can resell for $200, or buying something for $100 – $200 that you can resell for $1,000 or more.
Do you see how it's possible to earn a good living doing this?
You can find undervalued items to flip in many different places. They can be found at flea markets, auctions, garage sales, and thrift stores. They can also be found on OfferUp, Facebook Marketplace, and other sites like Craigslist.
Rob Stephenson started flipping as a way to earn some money to pay his monthly car payment. He was so successful that he started doing it on a part-time basis when he wasn't working his regular job. Working only 10-15 hours a week, he was able to earn $30,000 a year just from flipping alone.
Seeing the incredible profit possibilities from flipping, he quit his day job to be a full-time flipper. He now earns a comfortable six-figure income for his family flipping products he finds in his community.
Rob teaches others how to earn a living flipping products in his Flipper University course. The course teaches you everything you need to know to be successful including sourcing products to sell, negotiating prices, listing items for sale on eBay, prepping and shipping items, and much more.
The great thing about flipping products is that you can start on a part-time basis and slowly work your way up as your confidence and experience grows. You can do this as a side hustle to earn some extra spending money or go full-time like Rob did.
If you would like to learn more about the flipping business, Rob and Melissa offer a free webinar workshop. They offer a free beginner's guide to selling on eBay for anyone who watches the entire webinar.
Check out the free webinar workshop to learn more about making money from flipping used products.
2. Start a Facebook Marketing Business
Do you know all of those ads you see on Facebook as you're checking out all of your friends' baby pictures and memes? Those ads are big business. Facebook ads are now one of the best ways to reach people that there is – because they flat-out work to put people's eyeballs on whatever product or service companies are selling.
Facebook ads are used by businesses of all sizes. They are used by large corporations all the way down to small local businesses in your community. Just a few examples of small businesses that use Facebook ads include dentists, chiropractors, auto sales, law firms, coffee shops, entertainment venues, and so many others.
And here's the really great thing about these ads: Most businesses don't have the foggiest clue about how they work. That's right – most businesses hire people to run their Facebook advertising campaigns for them.
That's where you come in.
You may be able to create a very lucrative business for yourself running business's Facebook marketing ad campaigns for them. This is a business that is highly flexible. Yes, there is a learning curve, but in just a few short weeks you could be up and running as a Facebook marketing specialist.
One of the best things about this business is that once you set up a company's ads on Facebook, it really doesn't take much time at all to maintain everything. You can then spend your time reaching out to other businesses to land more clients and increase your business – or you can go fishing. It's your business, so you can spend your free time however you like.
How much can you earn as a Facebook ad manager? Probably more than you think.
With this business, you want to land clients who pay you monthly retainers. The industry standard for this type of service is between $1,000-$2,000 a month per client.
Can you imagine how your life would be if you just land just four or five clients? How would that change things for you?
This is a very easy business to get started in. You don't even need to build a website to market your services or know anything about advertising.
If you are interested in learning how to get started in this business, Bobby Hoyt and Mike Yanda, two experienced Facebook marketers, have created a course called the FB Side Hustle Course that teaches you everything you need to know about Facebook ads, landing clients, and all other aspects of succeeding as a Facebook marketer.
3. Sell Products on Amazon
Did you know that many of the products sold on Amazon are actually sold by third-party sellers? It's true. And many of those third-party sellers are not big companies. They are very small businesses operated out of people's homes.
Amazon – the largest online retailer in the world – now makes it very easy to sell products on its platform. It's a work-from-home opportunity that is ideal for many.
In the Fulfillment By Amazon program (FBA), you simply ship your products to their product warehouses. You can either create a new listing for a product on Amazon if it's something that currently isn't being offered, or your products can be listed right along with other sellers if a listing already exists.
The great thing about selling products on Amazon is you don't have to worry about packing and shipping products individually as orders come in. Amazon does that for you (for a fee, of course). Product returns and customer service issues are also handled by Amazon.
Many people start selling products on Amazon on a part-time basis. It's a side hustle they do after working their regular job. The interesting thing about selling on Amazon, however, is that this is a side hustle that you may be able to grow to eventually replace your job. Many people have done it.
If you would like to learn more about selling products through Amazon FBA, the Proven Amazon Course is an online course that teaches how to get started, how to source products, how to scale your business, and other important things you'll need to succeed.
Check out the Proven Amazon Course to learn more about selling products online.
4. Teach English Online
Do you love working with kids? Are you good at explaining things in a way that makes them easy to understand? Do you have at least a bachelor's degree in any field of study? If so, you might want to consider teaching English online to kids living in China.
Through VIPKID, you can select your own hours and work from the comfort of your own home (or somewhere else) teaching English to Chinese children. The company provides all of the lesson plans for you, and you don't have to do any grading.
VIPKID teachers earn anywhere from $14 – $22 an hour. To qualify, you do need to have at least a bachelor's degree. VIPKID is ranked as one of the top work-at-home opportunities by FlexJobs.
5. Start a Blog
When most think about blogs, they probably assume that it's not something you could make any money with – maybe a few bucks a month from ads. But did you know there are many who earn full-time incomes from their blogs?
Scout's honor.
Not only that, but you might be surprised to learn that there are many bloggers who earn six-figure incomes working from the comfort of their homes as bloggers. And some bloggers, like Michelle Schroeder at Making Sense of Cents, earn over $1,000,000 a year from their blogs.
How do blogs earn money?
There are several ways that blogs can earn money. The first is through advertisements. The most common type of advertisement is called pay-per-click (PPC) ads. The blog owner is paid a small commission every time someone clicks on an ad.
Another way blogs earn money is through affiliate referrals. This just means that the blogger is paid a small commission if he refers readers to a product and someone purchases that product. There are several different affiliate networks that bloggers can join where they can sign up to promote many different products.
Selling information products is another way that blogs can earn money. If you've ever purchased an online course or an ebook from a blog, you've purchased an information product. The great thing about information products is you don't have to stock or ship any inventory. When someone purchases your product, the transaction is handled automatically. Access to the information is emailed to buyers and they can review the material whenever they want.
Lauren McManus and Alex Nerney are a couple who started a health and wellness website a few years ago. It earned just over $100,000 in its first year and now earns over $20,000 a month.
Lauren and Alex now teach others how to build and launch their own successful money-making blogs in their Create and Go series of courses:
You can buy each course separately, or you can also save money by buying the Pro Blogger Bundle.
6. Take Online Surveys
Many companies routinely need feedback from consumers to help them create better products and services. They also need information on how they are doing with their advertising campaigns. In short, their success often hinges on their ability to find out what people think of them.
In order to find out people's opinions on various things, many companies use surveys. And get this – they often pay people to take these surveys.
Now, taking surveys isn't going to be something that you can replace the income from your job with – but it is a great way to earn some extra spending money each month. Most people earn in the range of $50-$200 a month with this method.
It's important to point out that you probably won't qualify for every available survey there is. Most paid surveys are looking for people with certain characteristics. For example, one survey may be looking for someone who watches a certain sitcom. Another survey may be looking for someone who has bought a certain brand of breakfast cereal recently.
Because of this, you may have to answer a few questions to see if you qualify for each survey. Still, answering surveys is a very easy way to earn some extra cash. It's very easy to check the surveys during your free time to see what's available.
How do you get paid?
With online surveys, you will most likely be paid one of two ways. You will either be paid in reward points that you can redeem for gift cards, or you will be paid in cash through PayPal.
Getting started taking surveys for money is very easy. Two of the best survey websites are Swagbucks and Survey Junkie.
Getting started taking surveys for money is very easy. Four of the best survey websites are:
7. Be a Freelance Writer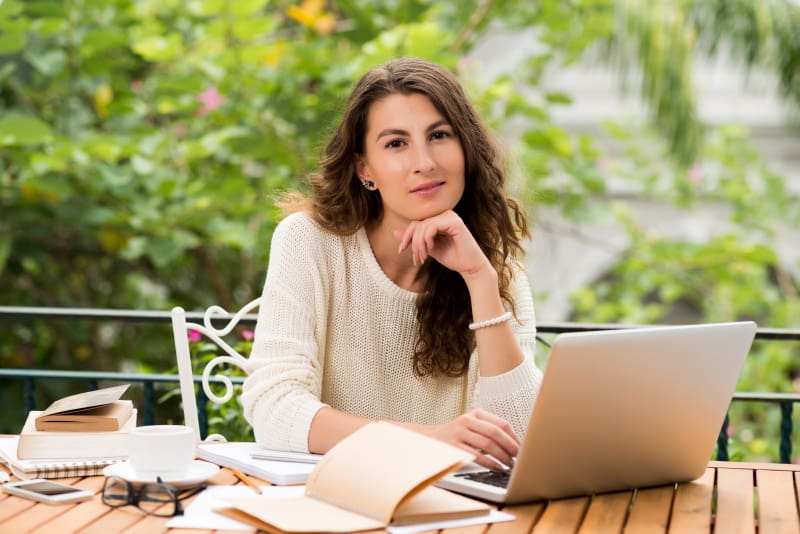 Do you love to write? Maybe you've got an idea for a book you've been working on for a while. If so, you may be able to sell your writing services to clients and make a good living for yourself.
There are thousands of companies that need good writers to produce written content to help them sell their products and services. They may need writers for blog posts, website content, newsletters, case studies, and other things.
One of the great things about being a freelance writer is many clients will give you repeat business every month. Some writers are able to earn full-time incomes with just a handful of quality clients.
Holly Johnson is someone who quit her job to become a full-time freelance writer. Burned out and exhausted from working long hours at a funeral home, Holly decided to strike out on her own. She now earns six-figures writing for various clients.
Freelance writing gave Holly the ability to leave her job and live her life on her own terms. She now works from home, is there for her family, and is able to travel several times a year. To say that her life has been transformed by her decision to strike out on her own as a freelance writer is an understatement.
8. Start an Online Store
Similar to selling products on Amazon, another option is to set up your own online store and sell products directly to customers who visit your website.
That's what Steve and Jennifer Chou did. Before starting their online store, Steve and Jennifer both lived unfulfilled lives where most of their time was spent at their jobs. They were usually too tired of the evenings to do anything other than eat dinner, watch a couple of hours of TV, and then go to bed – only to do the same thing the next day.
Wash, rinse, repeat.
All of that changed when they started Bumblebee Linens, an online store specializing in selling linens and handkerchiefs for special occasions. They were able to replace Jennifer's $100,000 salary within one year.
Steve and Jennifer's online store continues to do very well. But they also now help others start their own online stores through their Create a Profitable Online Store course.
The course reveals everything you need to know to get started including how to select a profitable niche, sourcing products to sell, setting up your store and marketing it, and other important things to make sure your online store is successful.
9. Be a Virtual Bookkeeper
There are tens of thousands of small businesses all across the country that need help with their bookkeeping. Small business owners are usually busy doing things that generate revenue. For many entrepreneurs, there's just not a lot of extra time for keeping the books.
You may be able to make money by filling that gap.
You can offer your services as a virtual bookkeeper to help small businesses track their income and expenses. Virtual bookkeepers are in big demand, and you can potentially earn up to $80 an hour.
Ben Robinson shows you everything you need to know to get started and be successful in running your own freelance bookkeeping service in his course Bookkeeper Launch. You don't need to have any previous bookkeeping experience or accounting degree to get started.
Check out Bookkeeper Launch to see how a virtual bookkeeping business could allow you to earn an income working from home.
10. Be a Virtual Assistant
Another great option for working from home on your own terms and schedule is to be a virtual assistant.
A virtual assistant is someone who helps companies and organizations with various tasks. It's a great arrangement for companies that need a few things done here and there but don't necessarily want to hire another employee. Businesses that use virtual assistants save a lot with this arrangement because they don't have to pay benefits for the help they get.
The type of work virtual assistants do varies depending on the companies they work for. Just a few examples include transcribing conference calls, managing social media accounts, handling customer service inquiries, managing schedules and calendars, project management, bookkeeping, and other things.
As a virtual assistant, you can choose to work either part-time or full-time. It's your call. If you want to earn more money, you can scale your business by taking on more clients.
Kayla Sloan is someone who started a successful virtual assistant business. She now earns six-figures helping other business owners with various tasks.
Kayla also helps others learn the virtual assisting ropes so they can enjoy the freedom of working from home too. Her course, $10K VA, walks you step-by-step through the entire process of launching and growing your new virtual assistant business.
Virtual assistants are in demand. And with the right foundation and training, as Kayla Sloan teaches in her course, you could be well on your way to earning a living for yourself from the comfort of home.
Check out $10K VA to learn more about virtual assisting.
11. Create Online Courses
Udemy is a company where anyone can sign up to create and sell their own online courses. The company's name is supposed to be short for You Academy.
If you have a special talent in something, you could create and sell your own online courses to supplement your income or earn a full-time living. How much money you make depends on a variety of factors like the demand for the courses you create, the number of courses your create, and other factors.
Dave Espino is an example of someone who has found success selling courses on Udemy. He currently has about 50 courses on the platform.
One of the great things about selling courses on Udemy is that the company continually promotes and markets your courses for you. Assuming you've made a high-quality course in a topic that is in-demand, once you get some positive reviews on your course, the Udemy platform will recognize that your course is doing well and will promote it.
Another great thing about developing online courses is that once you've made a course, you can increase your income by selling it on other platforms. That's right, Udemy isn't the only player when it comes to online courses (although it currently is the most popular. Other platforms you can upload and sell your courses on include Skillshare, Skillwise, Podia, and others.
What's that? You've never made an online course before and aren't sure about how to get started?
No problem. One great thing about Udemy is that there are plenty of courses on the platform that teach you everything you need to know to make and sell courses. Yes, courses on how to make and sell courses.
Yet another option you may want to consider if you are developing and selling your own courses is to self-host courses and market them yourself.
Why would you want to do that?
To earn more money – potentially a lot more money. You see, if you host your own courses, you can price them however you like. If you only sell your courses on Udemy, for example, you have to price your courses to be competitive with others in your niche that are already selling on the platform.
And, get this – if you market and sell your own course, it may be possible to earn a six-figure income just from selling one course.
Don't believe me? Let's do the math.
Let's say you price your online course at $297, which is a very common price for online courses. At that price, you only need to sell 337 courses in a year to earn $100,000.
But, how do you market your courses?
There are several ways you can market your online courses. One of the most popular methods is to advertise on Facebook. Facebook has a very smart marketing platform that helps you target people who are most likely to purchase your online courses.
Another marketing option is to use paid advertising with Google and Bing ads. Both Google and Bing have robust advertising platforms that let you purchase targeted ads.
Okay, this all sounds great, you may be thinking, but how does someone self-host a course? This sounds complicated.
It really isn't. There are a couple of inexpensive platforms you can use to host your courses. They are both very easy to use. These platforms include Teachable and Thinkific.
If you are interested in learning all about how you can create your own self-hosted course and sell it without having to rely on a course platform like Udemy, Dave Espino has created a course that goes over the process in depth. Dave calls his course The World's Most Perfect Business.
12. Be a Proofreader
Being a proofreader for court reporters is another great way to earn a living working from home. Proofreaders who specialize in court reporting work are also known as scopists.
Court reporters use proofreaders to free up their time to do more court reporting. The more court reporting they do, the more they earn.
As a proofreader, you will receive both a transcript and the corresponding audio from a court reporter and then edit the transcript to make sure it matches the audio. Proofreaders average between $30,000 – $50,000 a year, and it's a type of work that is in demand.
Caitlin Pyle has worked as a proofreader since 2012, and she also teaches others how to start and run their own proofreading businesses through her Proofread Anywhere course. It teaches you everything you need to know to be successful including how to do the work, how to land clients, and other important things to ensure your success.
Being a proofreader is something you could potentially combine with other freelance services like writing, being a virtual assistant, or something else to increase your earnings.
Check out Proofread Anywhere to learn more about earning money as a proofreader.
13. Be a Pinterest Virtual Assistant
You're probably already familiar with Pinterest, the website where you can pin pretty images to your board and go back later and read the articles they are linked to.
But did you know that many website owners need and use virtual assistants to help them with their Pinterest accounts?
Not only is it true, but you may be able to start a business as a Pinterest virtual assistant to earn either some extra income or a full-time income – working from the comfort of your own home.
Why do website owners pay people to manage their Pinterest accounts?
Many bloggers use Pinterest to drive traffic to their websites. Pinterest is a search engine, and many people look for things on the platform they are interested in reading.
There are many bloggers who get hundreds of thousands of visits to their websites each month from Pinterest. All of that traffic is highly valuable to them. It's their bread and butter.
Because Pinterest traffic is so financially valuable to many bloggers, they often use Pinterest professionals to help them maximize their traffic from the platform. As a Pinterest virtual assistant, you could potentially earn up to $500 a month for each client you take on.
If you're interested in learning more about this opportunity, Gina Horkey and Kristin Larson teamed up together and created a course on becoming a Pinterest virtual assistant.
14. Start a Pet Sitting Business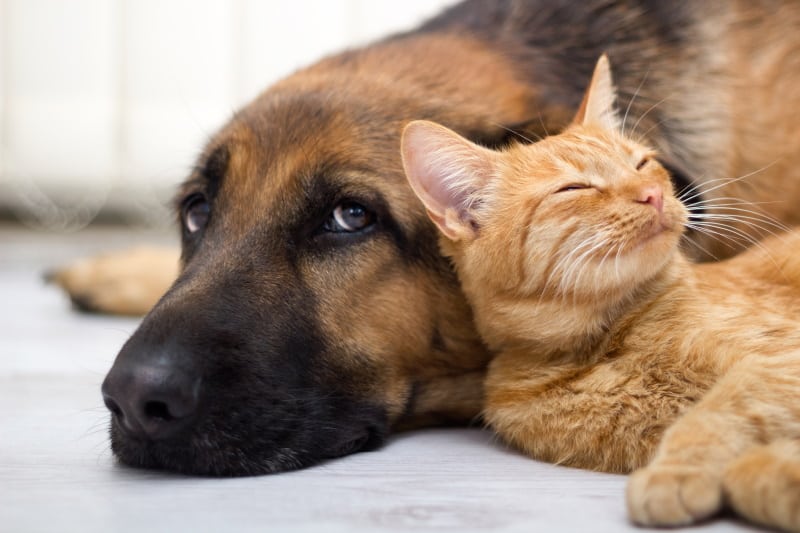 People love their dogs, cats, and other pets. In fact, many consider their fur babies to be members of the family. If you are someone who loves animals, you might want to consider starting a pet sitting business.
People travel all the time, whether it's for vacation, work, or for other reasons. And when they do, they often need a place to take care of their pets for them while they are away.
You may be able to earn money by offering your services as a pet sitter to those who need someone to take care of their pets while they are traveling. Many people actually prefer to board their pets with an individual instead of a kennel because many kennels keep pets in cages for the duration of their stays.
As a pet sitter, your responsibilities will include making sure the pets you board have plenty of food and water. You will also need to provide a clean place for the pets and clean up after them. You may also have some additional duties, like taking dogs for walks. Your duties may vary depending on the type of animal and what your customers request.
To start a pet sitting business, you do need to have a good place to keep the pets. This strategy may not work if you live in an apartment, condo, or other place that is in close proximity to others. It's best if you have a home with a decent sized yard.
One way you can market your pet sitting services is by telling potential clients how you are different from kennels. For example, you could tell people that you interact and play with all of the pets you board instead of keeping them caged.
One place you can market your pet sitting services on is Rover. Rover is a website that connects dog owners with those who provide dog sitting services.
Before you start a pet sitting business, be sure to check with your state and local government to see if there are any special licensing requirements.
15. Rent a Spare Bedroom on Airbnb
Do you have a spare bedroom, finished basement, or other place that you are currently not using? If so, you may be able to earn some extra money by renting it on Airbnb.
Airbnb is a website that allows people to rent spare rooms, mobile homes, houses, and other types of lodging to those who are looking for something different than hotels. There are even treehouses available on the platform.
The Airbnb platform allows people to book your home, receive payments, contact you if they have questions, and other things.
There are a lot of things to consider before listing a spare room or other place on Airbnb, like insurance, privacy, and local regulations. If you are new to the Airbnb platform, you might want to consider reviewing a beginner's guide to help you get started.
16. Build and Sell Wood Furniture
Do you enjoy woodworking? Do you already have some woodworking tools? If so, you might want to consider building and selling your own wood furniture products.
If you've been shopping for furniture lately, you've probably discovered that well-made furniture is hard to find. Many furniture products these days are made in factories from cheap pressboard or plywood that doesn't last long. Because of this, many furniture shoppers are willing to pay a premium for furniture that is high-quality and custom-made.
There are many different furniture products you can make including desks, tables, chairs, chests of drawers, nightstands, beds, and many others. Additionally, there are many different styles you can choose from too.
One simple style that is very popular is furniture made from rough-cut logs. You can very easily see examples by searching for "log furniture" on eBay. Many people really like the rustic look, and these pieces are not difficult to make.
There are several ways you can sell the pieces you make. You can list them for sale locally on Craigslist, OfferUp, and Facebook Marketplace. You can also sell furniture nationwide by listing your creations on eBay and then shipping them by freight truck.
If you are interested in learning more about selling products on eBay and how to ship large pieces, the Flipper University course goes over these things in detail. While Flipper University specializes in teaching people how to flip products they buy at flea markets and other places, it also goes into detail on how to ship large items (like the furniture you make) by freight truck that you sell on eBay.
Another potential option for selling custom-made furniture is to contact local furniture stores and see if they would be interested in selling your creations. This strategy probably won't work for large chain stores, but smaller family-owned stores might be interested.
If you are new to making furniture, plans are available to help you get started.
17. Sell Handmade Goods on Etsy
Do you enjoy making your own jewelry, clothing, or home decor? If so, you may be able to sell your handmade creations on Etsy.
Etsy is a website that specializes in selling things that are handcrafted, vintage, custom, or unique. You can set up a shop on the site for your own products, and customers can find your merchandise when they conduct searches for certain search terms or phrases.
Selling handmade items online is an option that is best suited for earning extra income.
Getting started on Etsy is very easy. Books are available to help you learn the ropes and improve your sales.
18. Work for Amazon
Did you know that Amazon has a small army of remote workers who never have to show up at a corporate office? It's true. Amazon employs many people who work from home, and the company continues to hire more and more remote workers each year.
Amazon uses remote workers for many different jobs including customer service, data research, operations, account management, information technology, human resources, and many others.
Amazon has an entire website devoted to remote positions called Virtual Locations. This website makes it very easy to browse open positions and apply to the ones that interest you.
19. Teach Music Lessons
Are you really good at playing a musical instrument? Perhaps you're a piano virtuoso. Or maybe you've been playing the guitar since you were 12 and can play so fast that people can barely see your fingers moving.
Regardless of the instrument you play, you may be able to teach music lessons in your home. It's important to point out that many aspiring musicians will be young people who are still in school. Because of this, you may have to offer the majority of your lessons during the evenings and weekends
To make sure you are priced competitively, you may have to check around to see what other music instructors are charging. You can advertise your services by word-of-mouth, on Craigslist, and in local trade publications.
20. Sign Up with FlexJobs
FlexJobs is a website that lists work-at-home jobs from many different companies. It's essentially a one-stop-shop for all of the best remote job opportunities available. The company states that all of the jobs they list have been hand-screened.
There are many well-known companies that advertise on FlexJobs. Just a few that have had job listings on the site include Price Waterhouse Cooper, Dell, Apple, Salesforce, Kelly Services, SAP, Aetna, Xerox, Kaplan, The American Red Cross, Houghton Mifflin Harcourt, and Hilton Hotels and Resorts.
Both part-time and full-time opportunities are available on FlexJobs with positions available starting at the entry level going all the way up to the executive level. There's truly something for everyone!
21. Do Freelance Graphic Design Work
Are you someone who is artistically gifted? If so, you may be able to earn some extra money doing graphic design work.
Graphic designers are needed for many different kinds of marketing projects. They are needed to create company logos, to design postcards and flyers, magazine and newspaper ads, banners, posters, billboards, brochures, infographics, signage, PowerPoint presentations, email marketing templates, social media ads, images for websites, and many other things.
Graphic designers create many of the artistic designs you see in marketing campaigns on the internet, on TV, in magazines, and in other places. The demand for skilled artists who can create artistic designs that draw customers in and sell products is very big.
One way you can sell your services as a graphic designer is to contact different marketing agencies to see if they use freelance graphic designers. If so, you may be able to make arrangements to do work for them on a regular basis.
Another way to sell your graphic design work is to market your services on Fiverr and Upwork.
22. Design Websites
Another great freelance opportunity to consider is website design. This is something that is in big demand. The best designers can charge thousands for each website they create.
In order to become a website designer, you do need to learn everything there is about WordPress, the most popular content management system currently available.
WordPress is the foundation of millions of websites and is highly flexible. But there is a learning curve. Books are available on the subject, and there are also online courses to help you learn how to use the system.
In order to strike out on your own as a website developer, you will need to create a portfolio of websites that you can show prospective clients. One way you can do this is to offer to create several websites for free at first. After you have completed several of these projects and you feel confident in your abilities, you can then charge for your services.
23. Rent Your Car
Do you have an extra car or truck you aren't using? Maybe you've decided to get started in one of the great work-from-home jobs or businesses mentioned in this article and you aren't driving as much as you previously did. If so, you may be able to earn some extra income with your car or truck by renting it through Turo.
Turo is a company that lets you rent your car to people who need a car for a few days or weeks. In many ways, Turo is very similar to Airbnb. You can list your car on the platform, and people can then rent it if it appeals to them.
In order for this opportunity to work, you do need to live in an area where people need to rent cars on a regular basis. Large metro areas with airports are best. If you live on a farm in rural Nebraska, for example, you will probably mostly hear crickets chirping if you list your car for rent.
Many people prefer renting through Turo because they can get better deals than they could through car rental companies. They also get a much greater selection of vehicles to choose from. There are even exotic cars on the platform for those who are interested.
Learn more about how this opportunity works right on Turo's website, and see if this is a good option for you.
24. Teach Online College Classes
Taking college classes online is now very common. In fact, most schools these days offer online degree programs. Even the elite schools have gotten in on the act. Harvard Extension School is just one example. Stanford University online is another.
You may be surprised to learn that college and universities often use part-time faculty who work remotely to teach their online classes. In the world of higher education, part-timers are known as adjunct faculty.
Colleges and universities love to use part-time instructors because they don't have to pay them any benefits. They only pay them for the courses they teach.
So, how do you earn a full-time income teaching college classes online if each school is only hiring part-time instructors?
You teach for multiple schools at once.
Before online classes came along, if you wanted to teach for more than one school, you had to physically drive from school to school and give presentations in person. It wasn't a very practical way to make a living. With online classes, however, traveling is no longer required.
By teaching classes online, you can very easily teach for multiple schools at once. You could work on one course for a couple of hours in the morning, for example, and then work on a course through a totally different school in the afternoon.
How do you get started teaching online?
If you have at least a master's degree in a teachable subject, you may be able to land work teaching online classes. Most schools these days do prefer to hire people with doctorates (yes, even for adjunct work). Having a master's is the minimum requirement.
Danielle Babb is an example of someone who quit her corporate job to teach online college courses full-time. She also wrote a book on the subject that teaches you everything you need to do to get started, land your first teaching job, and scale up from there. Her book is called Make Money Teaching Online.
25. Test Websites
Many companies need unbiased opinions on new features they add to their websites. In short, they want to know if their websites are working properly. And to find out what's working and what isn't, they often hire companies to test their websites for them.
Some of these companies, like User Testing, use remote workers to do their testing.
If you sign up with a company to test websites, you will be able to earn between $10-$20 per website you test on average. You will also be limited to testing between 3-5 websites a month. Because you are limited to reviewing just a few websites each month, this option is best for earning a little extra money each month.
In order to do website testing, you will need to have a webcam. Also, when you test a website, you will be required to record yourself. You will also be required to give commentary as you perform each test.
26. Become an Instagram Influencer
You're probably already familiar with Instagram. You know, the website where people post random pics of themselves, their friends, their vacations, and a little bit of everything else. Well, did you know that it's also possible to make money on the social media platform? People already make money on YouTube and other platforms, so why not Instagram?
Shelcy Joseph is an example of someone who earns money on Instagram. Since 2016, she's been averaging about $1,600 a month as an Instagram Influencer. Read her story to find out how she made it happen.
27. Write Resumes
Having a professional resume is absolutely vital for those who are searching for jobs. But few know how to create a resume that is visually appealing and stands out to hiring managers.
If you are good at writing and you have an eye for design, you may be able to earn some extra money writing resumes for job seekers. This is another opportunity that is best suited for earning extra income.
How do you find work as a resume writer?
There are several options for selling your resume writing services. One is through a company called Talent Inc., which is a company that specializes in resumes and curriculum vitaes. Remote resume writer positions can be found on its careers page.
Another option to earn money as a resume writer is to sell your services on popular freelancing sites like Fiverr and Upwork. Fiverr lets you post your services, and clients can hire you if they like your listing. Upwork is a little different. On the Upwork platform, clients post jobs and freelancers can then bid on the projects that appeal to them.
28. Open a Daycare
Are you someone who loves children? If so, an opportunity you may want to consider is operating a daycare out of your home.
There are many people who need someone to watch their children while they work during the day. They need someone who keeps a clean house, is reliable, loves children, and is safety-conscious.
Perhaps that person is you?
If you are someone who already has small children, this may be a great way for you to get paid to do be a stay-at-home parent.
To start your own daycare, you will need to have a home with plenty of space. Depending on where you live, it's also possible that there may be special training, licensing, or permits you will need to obtain before you can get started.
If this is an opportunity you are interested in, be sure to check with your state and local government to make sure you are following all laws and regulations.
29. Be a Medical Coding and Billing Specialist
The medical field is complex, and it needs a small army of people who are well-versed in medical coding and billing to apply the proper codes to medical procedures and bill insurance companies for payment. One of the great things about this career is that many medical coding and billing specialists work from home.
In order to become a medical coding and billing specialist, you may have to pass a rigorous certification exam, like the Certified Professional Coder (CPC) exam.
There are several companies that hire remote medical coding and billing specialists. One of these is Aviacode.
30. Promote Other People's Products
Did you know there's an entire market where people promote other people's products in exchange for a commission for each sale they get? It's called affiliate marketing, and many earn full-time incomes doing this from the comfort of their own homes.
One of the most popular platforms for connecting people who have products with those who want to promote them is Clickbank. The great thing about this platform is that some products allow you to earn up to a 75% commission for each sale you make. With commissions like this, it's not hard to see how some earn full-time incomes with this method.
There are many ways to promote Clickbank products. Read about how one person earns money on the platform.
Combine Opportunities
If more than one of the options in this article appeals to you, you may want to consider combining opportunities. In other words, you can do more than one of the things on this list to earn a living for yourself.
For example, if you really enjoy writing and you are also a huge animal lover, then you could potentially work as a freelance writer and also board pets at the same time (if you have the available space for it).
In another scenario, you could potentially work for a company you discovered on FlexJobs and also flip products on eBay that you got from flea markets, yard sales, Craigslist and other places on the side.
There are many ways you can combine opportunities to earn a full-time income. You can make an inventory of your talents, skills, and interests and then figure out which opportunities make the most sense for you.
Where there's a will, there's a way.
Opportunities Abound
Did you know there were so many great opportunities to earn a living working from home? Who says you have to commute long distances and deal with a grumpy boss to earn a living?
Work from home jobs are now mainstream. All of the cool kids are doing it. Perhaps one of the opportunities mentioned in this article is your ticket to freeing yourself from a life of office drudgery and giving you the ability to earn a living while having a life at the same time.