The Top 20 Worst Jobs for Introverts
This post may contain affiliate links. Please read how we make money for more information.

If you are an introvert (like me), then you might be wondering which jobs you should avoid. There are some jobs, after all, that require quite a bit of interaction with other people. To most introverts, interacting with others can be mentally draining and exhausting.
In a previous job I once held, I would come home every evening exhausted. It wasn't the work that was making me so tired, it was because I had to interact with people all day long. I couldn't even enjoy some quiet time during my breaks. There would often be another employee nearby who wanted to strike up a conversation.
The following list is my opinion on the worst jobs for introverts – your mileage may vary. There are many things to consider when choosing a career. If you are an introvert, the best career for you is going to be very different from others.
1. Teacher
Teachers are vitally important in society. They mold and shape young minds and prepare them for future careers and to be well-educated citizens. But teachers must also have a lot of interaction with their students and other people.
Most teachers engage daily with their students. They prepare and deliver lesson plans, grade homework, and assess their students' progress. Teachers also have to participate in teachers' meetings with other staff, and they may also have to have meetings on occasion with parents.
2. College Professor
In many ways, college professors are very similar to school teachers. They have to prepare and deliver lesson plans to students, grade assignments, give tests, and assess student progress.
Many college professors are also expected to engage in academic research. It usually isn't optional. You may have heard of the saying "publish or perish." This refers to the requirement of college professors to publish research on a regular basis in academic journals to stay relevant in their careers.
College professors also occasionally give presentations to groups of people. They may give a presentation on something to members of the community, for example. They may also have to present their research findings to other researchers.
3. Sales Representative
Working in sales is very difficult for many introverts. The idea behind selling things is to talk to people and convince them why they need whatever it is you are selling. You have to be warm and friendly to your potential customers, and you may also have to make a lot of small talk.
Some salespeople also have to give presentations. For example, someone who sells productivity software may have to give a presentation to the company's executives to explain the advantages of the new software over what they are currently using.
Working in sales can also be very stressful since many companies impose quotas on their sales personnel. If you don't consistently make your quota, your job could be in jeopardy.
4. Police Officer
Police officers have tough jobs. They are responsible for enforcing all of society's laws and investigating criminal activity when it occurs. Police officers often communicate with people to obtain information, conduct wellness checks, when they pull motorists over, and when conducting investigations.
Police officers may also have to participate in courtroom trials and other proceedings. This can be stressful for introverts. Officers need to clearly and effectively communicate information on cases to judges and juries to help them render decisions.
Being a police officer is a high stress job for anyone, not just introverts. It is ranked as one of the most stressful jobs in America.
5. Real Estate Agent
Real estate agents are responsible for showing homes to potential buyers. They have to make small talk with their clients, answer questions about homes, and they may also have to attend closings when homes sell. An agent may have to show a home many times before an offer is made to buy it.
Real estate agents also work to sell homes. They have to communicate with sellers to learn about their homes and take pictures to have them included in the listings.
6. Event Planner
Event planners are responsible for planning and coordinating various events. To make sure the big event goes off without a hitch, they have to communicate with various service providers. Just a few things event planners may plan and coordinate include:
Corporate meetings
Non-profit activities
Conferences
Exhibitions
Conventions
Tourism events
Sports events
An example of an event planner is a wedding planner. Wedding planners have to hire photographers, order floral arrangements, make recommendations for renting or purchasing dresses and tuxedos, and make reservations with venues for the wedding and possibly another venue for the reception. It's a big job with a lot of moving pieces.
7. Flight Attendant
Flight attendants do a lot more than what many realize. There's a lot more to the job than handing out snacks and drinks during flights.
Flight attendants assist passengers with any questions they may have during, before, and after flights. They also make important safety announcements prior to each takeoff. Flight attendants are also trained to assist passengers in the event of an emergency to make sure everyone follows procedures.
8. Retail Store Assistant
People who work in retail stores communicate with customers daily. That's what they are there for – to make sure customers have an amazing shopping experience and to assist them with any problems they may be having or to answer their questions.
Retail store assistants help out in other ways, too. They may help stock shelves, work check-out registers, and assist in keeping their stores clean and tidy. They handle many different tasks within the stores they work, and they are also expected to be knowledgeable about both the products and store operations.
9. Front Desk Receptionist
Front desk receptionists have difficult jobs. Their primary job is to communicate and answer questions. They have to answer the phone and transfer calls to the appropriate person all day long. And they also have to take care of customers in person.
Front desk receptionists can be found working at many different places including businesses and medical professional offices like doctors and dentists.
Hotels use front desk receptionists to check customers in and check them out, make reservations, answer questions over the phone, and also to handle any problems customers may be having during their stay.
10. Bank Teller
I consider bank tellers to be one of the worst jobs for introverts because they have to interact with customers all day long. It's their job to cash checks, handle deposits and withdrawals, and handle customer service issues. As if that wasn't hard enough, they also have to make sure that their cash drawers balance at the beginning and end of each workday.
Some bank tellers work with customers face-to-face, while others work with customers who are going through the bank's drive-through. Tellers at small banks may have to do both, switching back and forth between walk-in customers and those who use the drive-through.
11. Customer Service Representative
Customer service representatives are responsible for taking care of various issues that customers may be having with the service a company provides or its product. Most customer service representatives work in call centers, and they usually have to handle back-to-back calls all day long. It's not uncommon for someone who does this type of work to handle dozens of calls in a single shift.
You have to have thick skin to work as a customer service representative. As anyone who has worked customer service in a call center can tell you, people get very brave over the phone. Many people who call in with a problem are raging mad, and they think that they can get their problems resolved by yelling and name-calling.
Customer service work is usually high-stress work. Many companies may also require you to do other tasks when you are handling difficult customer service calls, like trying to sell additional products or services that customers may not want.
12. Fast Food Worker
Whether working in fast food is a bad job for introverts or not depends on what you do. Some fast-food workers, for example, work in the back as cooks and have minimal or no contact with customers. Those who work the front-lines, however, have to take orders, make sure orders are filled correctly, and handle customer service issues.
Fast-food workers may also have other duties when they aren't working directly with customers like sweeping floors, cleaning tables, taking out the trash, and other things. It's a tough job, regardless of whether you are an introvert or not.
13. Restaurant Server
Servers in restaurants are in near-constant contact with restaurant patrons. They greet them when they first arrive, seat them, take their order, bring them their meals, and periodically check on them to make sure everything is okay and to see if they need anything else.
Because restaurant servers often work for tips, they need to be warm and friendly to the customers they serve. They may even have to make some small talk with them. The idea is to give exceptional customer service so they can earn a good tip.
14. Hotel Receptionist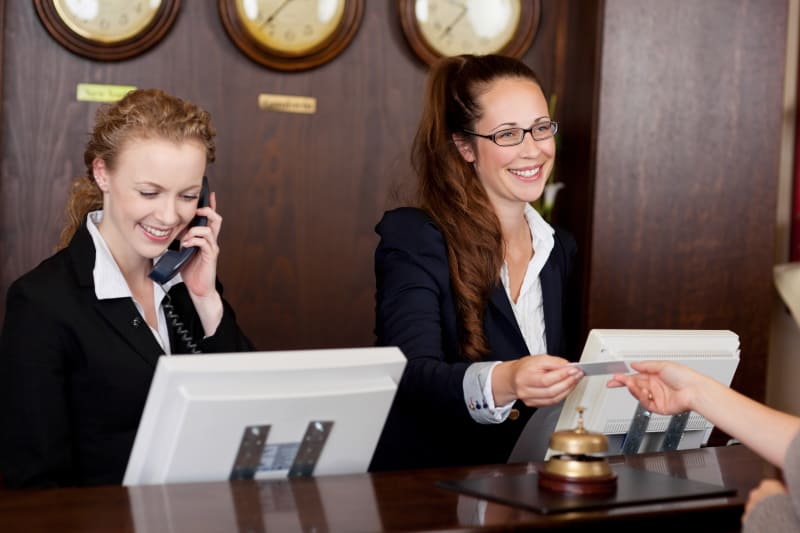 Another job that I consider to be one of the worst for introverts is hotel receptionist. They may also be referred to as front-desk clerks.
Hotel receptionists are responsible for a variety of duties including checking hotel customers in and checking them out. They also handle customer service issues if a customer has a problem with something in his or her room.
Hotel receptionists communicate often with the customers they serve. They need to be warm and friendly when handling customer problems and complaints, and they have to be resourceful in finding ways to come up with resolutions to issues that leave customers happy and satisfied.
15. Bartender
Similar to restaurant servers, many bartenders also work for tips. Because of this, they have to be warm and friendly to all customers, and if any problems do arise, they have to make sure the issues are resolved to the customers' satisfaction.
Most bartenders work of the days, evenings, and nights. They may also have to work weekends and holidays since more people tend to visit bars during these times and days.
Being a bartender requires a great deal of knowledge of various drinks and how they are made. Because of this, it may be necessary to attend a bar tending school to learn everything about the profession and to develop your skills.
16. Taxi Driver
Being a taxi driver is another one of the worst jobs for introverts because many of your customers will expect you to make small talk with them. Your job as a taxi driver, of course, is to take people to and from their destinations.
Being a taxi driver isn't easy. In addition to knowing every street and destination in the city or town you serve, you are also expected to be knowledgeable about many of the attractions, restaurants, and other things in the area. Some patrons may ask you for restaurant recommendations or for ideas about things to do.
To be a taxi driver, you need to be a good driver with a clean driving record, be good with conversation, have a good memory, and be knowledgeable about the city you live in. It's a job that not everyone is cut out for.
17. Manager / Team Leader
Managers are people who are in charge of businesses. They oversee different aspects of operations including making sure sufficient inventory is on hand, handling customer complaints, hiring and firing personnel, dealing with personnel disputes, and other things.
Some managers are in charge of an entire store, while others may be in charge of a section of a store, like the department manager of the toy section of a large big-box store.
Team leaders are also managers but they are usually in charge of a team of employees, like a group of people who handle customer service issues in a call center.
Being a manager or team leader is not a great job for introverts because these business professionals have to communicate often with employees, customers, and with others in the organizations they work.
18. Massage Therapist
Massage therapists are people who manipulate the body's soft tissues to provide relief from pain or for general relaxation. To become a massage therapist, you must attend a massage therapy education program and become licensed by the state you wish to practice in.
Massage therapy isn't a great job for introverts because you do have to communicate with clients. You may have to direct them during massages, and you may also be expected to engage in small talk.
19. Attorney
In my opinion, being an attorney is one of the worst jobs for introverts there is. The job requires you to communicate daily with clients, others in your legal office, and with judges and other professionals in the legal system.
It may also be challenging for introverts to complete the legal training because of the way the subject is taught at most law schools. Law schools typically use what is referred to as the Socratic method of teaching. This involves teachers asking students questions that are designed to stimulate critical thinking and discussion.
Because of the Socratic method, it's impossible to hide in most law schools. You can't sit in the back, for example, and expect to be invisible to your law professors. To do well in law school, you must participate in the class discussions, mock trials, and other student activities.
20. Counselor
Working as a counselor is another job that probably isn't the best option for those who are introverted. Counselors talk to people about their problems and help them work through various issues that they may be having.
Counselors must also be effective communicators. They have to be able to identify and understand problems as they arise and offer effective strategies to help those people cope with their problems.
Choose Your Career Wisely
Not all jobs make sense for introverts. Some jobs are best-suited for those with outgoing personalities who enjoy talking to others. If an introvert works a job that requires a lot of interaction with others, it could lead to job dissatisfaction, burnout, and ultimately quitting.
There are plenty of great jobs for those who are introverts. Before you choose a college major or start a career training program, be sure you do your homework to see what's involved in the work and how much interaction you'll have with others.
Choosing a career is a major step in life – it's a big deal. It's not something that you want to get wrong. If you choose the right career for your personality, it can result in a higher degree of job satisfaction and more happiness in life.