Starting a Cleaning Business Checklist – The Ultimate Guide
This post may contain affiliate links. Please read how we make money for more information.

Are you thinking about starting a cleaning business? If so, good for you! You have just taken the first step towards being a business owner – an entrepreneur.
A cleaning business is a great opportunity for many to pursue. Things get dirty all the time, and many people prefer to hire professionals to do the cleaning for them so they can concentrate on other things – like running their businesses or relaxing at home.
A cleaning business is also something that you can start with very little money. Many cleaning businesses, in fact, started with the business owner doing all of the work. You can expand your operation as you take on more clients and eventually hire people to help you.
But, where do you start? What are the steps you need to take to start a cleaning business?
The following is a checklist of things you will need to start a cleaning business.
Name Your Business
One of the very first things you need to do if you are thinking about starting a cleaning business is to come up with a name for your new company. When considering business names, it's important to avoid names that are similar to other cleaning businesses. You want to avoid trademark issues, and you also want to be unique.
Who Will Be Your Clients?
Another important thing to consider as you go over your checklist is the type of cleaning you will do. In other words, who will be your clients? Some cleaning businesses specialize in one type of cleaning while others take a hybrid approach where they serve different types of clients.
Residential Cleaning
Residential homes are one of the most common types of cleaning projects that people start with. Most communities have thousands of homes within a short driving distance, and many of those homeowners prefer to hire someone to do their cleaning for them.
Commercial Cleaning
Many businesses need someone to clean their offices, showrooms, warehouses, and other facilities. If you are considering commercial cleaning, it's important to keep in mind that some businesses prefer the cleaning to be done after regular business hours. This could mean working evenings, weekends, and nights.
Post Construction Cleanup
If you have a truck, cleaning up after construction crews is another option to consider. Many construction crews make a great big mess while they are building new homes, offices, and other things. You may be able to arrange to pick up and haul off construction waste once per week, for example, to make sure the mess doesn't build up.
Carpet Cleaning
Many people need someone to clean their carpets on occasion to get rid of stains, pet dander, and grime. Carpet isn't just found in people's homes – many offices also have carpet that needs to be cleaned. This is something you might consider as an add-on service.
Create a Budget
The next thing you need to do as you work your way through your checklist is to create a budget. How much money will you need to get started?
Cleaning businesses are very affordable businesses to start, especially if you plan on doing all of the work in the beginning. Still, there will be some expenses you will have to plan for, and for that you need to create a budget to make sure you have enough money to cover everything.
In addition to having enough money for all of the licenses, permits, marketing materials, and equipment you'll need to get started, it's also important to make sure you have enough money saved to cover your living expenses for a while.
A cleaning business is something that you can start on the side while continuing to work full-time at a job. However, if you want to go all-in with your new business, you'll need enough money saved up to live on for a while.
It's impossible to predict how fast a new business will take off. It may slowly grow over time or it could take off very quickly. There's also the chance that it may not work out at all. It's important to be financially prepared for any eventuality before starting.
Obtain References
Before hiring you to clean for them, some clients may ask to check out your references. But how can you get some references if you are just starting out? It's the classic chicken and egg scenario.
A simple way to get some references is to offer to clean some people's homes or offices at a deep discount or for free in exchange for recommendations. Explain to them that you are just starting out in your new business and that you need to obtain some references.
Many people will gladly take you up on this to get some affordable cleaning done. As your business grows, you can obtain more references from future clients at your normal rate.
A Start Date
When will your new business officially begin? What is the date that you will start accepting clients?
A start date for your business doesn't have to be written in stone. Sometimes things happen that can cause delays. Still, having a start date is important because it can give you a goal to work towards.
Consult an Attorney and Accountant
Something that should be near the top of your checklist is consulting with an attorney and accountant before you start your new business venture. Laws and regulations differ depending on where you are located. It's important to consult with professionals to make sure you are in compliance with all federal, state, and local laws. You don't want to miss anything!
Another reason why you would want to consult with legal and financial professionals is to make sure you have the right business structure for your particular situation. Most businesses are organized as either sole proprietorships, limited liability corporations (LLC), or corporations.
A professional can help you decide which business structure is best for you. Each structure has both pros and cons to consider.
Licenses and Permits
You will need to obtain a business license and possibly some other permits, too. You will also need an Employer Identification Number from the IRS, which can be obtained online for free.
Depending on where you live, you may have to obtain a business license or special permit from either your town, county, or state. Be sure to check with all three to be sure you have everything you need to operate legally.
Insurance
As a business owner, you want to make sure you have an abundance of insurance coverage in case something happens. Be sure to talk to several insurance companies before making a decision to compare rates, coverage, and other things. An insurance professional can help you choose the right insurance plans.
The following are four types of insurance you may need. Other coverage may be needed depending on where you live and the type of coverage you want. If you aren't sure, ask an insurance professional to assist you.
General Liability Insurance
Worker Compensation Insurance (if you hire employees)
Janitorial Bond
Vehicle Insurance
Equipment
The following items in this starting a cleaning business checklist are common to most cleaning businesses. You may want to add to this list as your business grows or depending on the type of cleaning business you operate.
1. Vehicle
You'll need a way to travel to and from the places you clean, like a pickup truck, van, or something else. The vehicle you use will also need to have enough cargo capacity to transport all of your equipment and cleaning supplies.
2. Smartphone
If you are starting out as a one-person operation, you will need a cell phone to take client calls while you are on the go. With a smartphone, you can use a scheduling app to schedule appointments to help you keep up with where you need to be.
3. Business Phone Number
You will need a phone number just for your business so you can easily know which calls you receive are for business and which ones are personal. You may not want to post your personal phone number online and in advertisements.
4. Laptop Computer
With a laptop computer, you can easily update your bookkeeping records and schedule appointments. If you are mainly going to be using your laptop for work, you don't need a powerful or expensive model. A decent laptop with mid-range specs is all you need.
Before buying a new laptop computer, take the time to read reviews of different brands. Some computers have better reputations than others and you want to buy one that will last as long as possible.
5. Bookkeeping Software
As a business owner, you will be required to keep detailed records of all of your financial transactions, and for that you'll need bookkeeping software. Popular options include Quickbooks, Xero, Freshbooks, and Wave Accounting.
Most modern bookkeeping software is now cloud-based. This means you can access your account from any computer. It also means that if something happens to your laptop and it suddenly stops working, you won't lose all of your financial data. The information is safely stored at a data center somewhere.
6. Cleaning Supplies Checklist
A cleaning supplies checklist will help you know when you are running low on certain supplies. You could go over your checklist at the beginning of each day or every few days to make sure you have everything you need to get all of your work done.
7. Business Bank Account
It's important to keep your business finances separate from your personal finances. To do this, you will need a business bank account in your business's name.
8. Knee Pads
You may have to get down on your hands and knees occasionally while cleaning. Knee pads give your knees some protection to help you avoid injury.
9. Tote Bags
You will need a way to transport all of the cleaning equipment and supplies you'll need for each job to and from your vehicle. Carrying items by hand would take too much time. Tote bags with generous capacity can hold many items.
10. Shoe Covers
Many homeowners will not want you walking into their homes in your shoes. The idea, after all, is to clean the home and not to track in dirt. You can protect floors from the dirt and grime on the bottom of your shoes by wearing disposable shoe covers.
11. Office Space
As a business owner, you'll need a base of operations. You can rent or lease a small office somewhere or, if your budget is tight, you can operate out of your home. You can convert an extra bedroom into an office space, but other unused spaces may work, too.
You will also need some space to store all of your equipment and cleaning supplies. Garages and basements are popular options.
12. Extendable Pole
You may encounter some situations while you are cleaning where you can't reach something. Maybe you have to dust a high chandelier, for example. An extendable pole can really come in handy in those circumstances. A dusting cloth can be attached to one end and you can then extend the pole to the desired length.
13. Dirty Laundry Bag
You are going to need a place to put all of your dirty rags after cleaning a home or office, especially if you intend to wash and reuse them instead of disposing of them. A dirty laundry bag is ideal for this purpose. It can help you keep dirty rags separated from the clean ones so you don't accidentally get them mixed up.
Cleaning Supplies
Every cleaning business is going to need a good supply of cleaning supplies on hand to tackle all of the jobs they will be taking on. Obtaining cleaning supplies is a critical part of your starting a cleaning business checklist. This is something you can't skimp on.
Every cleaning business owner is going to have personal preferences on cleaning supplies and brands. There may be some supplies not mentioned in this list, for example, that you like to keep on hand.
This list is not meant to cover all of the cleaning supplies you will ever need. Rather, it's intended to be a starting point. You can add or subtract to this list based on experience and the needs of your clients.
Vacuum Cleaner
Mop
Bucket
Glass Cleaner
Cleaning Rags
Disposable Gloves
Aprons
Glass Cleaner
Soap Scum Removal Cleaner
Floor Cleaner
Toilet Cleaner
Toilet Wand with Disposable Refills
All-Purpose Surface Cleaner
Disinfectant Cleaner
Grout Brush
Garbage Bags
Dusting Cloths
Spray Bottles
Shower Cleaner
Light Duty Scrub Pads
Plastic Scrapers
Face Masks
Paper Towels
Microfiber Towels
Sponges
Broom and Dustpan
Bleach
Air Freshener
Furniture Polish
Oven Cleaner
Carpet Cleaner
Stain Remover
Furniture Polish
Hardwood Floor Cleaner
White Distilled Vinegar
Carpet Odor Eliminator
Magic Eraser Sponges
Steel Wool Soap Pads
Advertising Your Business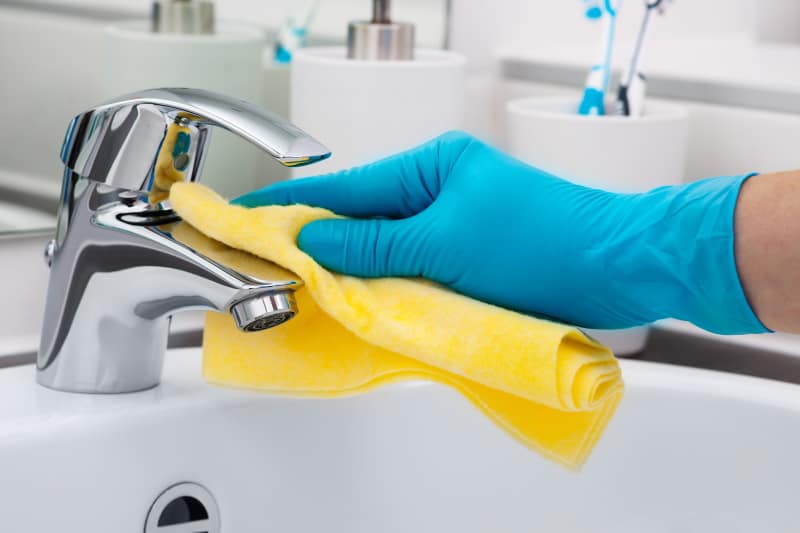 The next step in launching a new cleaning business is to start advertising. Clients aren't going to suddenly come knocking on your door if you don't get the word out that you are in business. You've got to do some marketing.
Marketing isn't just something that you will have to do in the beginning and then forget about after you have clients. You can't take your foot off of the gas. You have to continually market your services to make sure you always have a steady stream of new clients. Clients come and go – that's the nature of business.
Marketing doesn't have to be expensive or overly time-consuming. There are a few things you can do to make sure the people in your community are aware of your business and the services you offer.
1. Build a Website
These days, most people expect a business to have a website. You may not need a website at first, but eventually you do want to build one. Many people like to check a business's website to learn more about it, its services, its history, and to read client testimonials.
Another reason why you want to have a website is so that people can find you in the local search directories when they do a search for something. Have you ever searched for a local business (e.g., "dog groomers in Lakeland, FL") and the search engine shows you a list of related businesses in your area? This is called local search and it's actually very easy to have your business included in the search results.
To be included in local search, you have to register your business in the local search directories. If you have a website, people can then click a link to your site from the search results. A few directories to consider include:
Google
Bing
Yahoo! Small Business
Yellow Pages
White Pages
Yelp for Business
There are many different business directories you can sign up for. Just do an internet search for "local business directories" to find more.
If you've never built a website before, you might want to consider building a simple one using one of the popular online website builders like Wix, Squarespace, and Weebly. These sites have simple drag-and-drop interfaces and many different options that allow you to create a good-looking site if you aren't tech-savvy.
The online website builders have good online tutorials that walk you step-by-step through building a website. These sites charge a monthly fee to host a website on their platforms, but you'll have to pay for website hosting anyway.
2. Hand Out Business Cards
Another simple way to advertise your cleaning business is to have some business cards printed and hand them out to people. Business cards aren't expensive, and you can have them printed at your local office supply company. There are also many vendors online that will print them, too.
Another option to consider with business cards is to also have some magnetic business cards printed. Many people place these on their refrigerators and use them to attach coupons, kids' drawings, and other things. Because people actually use these handy magnets, they are more likely to remember your cleaning business when the need arises.
A strategy to consider with business cards is to talk to the owners of some businesses in your community and ask them if you could leave some business cards at the checkout counter. In exchange, you could offer to promote their businesses. Collaborations with other small business owners can be mutually beneficial.
3. Get a Professional Logo
If you are going to have business cards and a website, you also want to have a professional logo made with your company name and a catchy image. Branding is very important in business. A professional logo can help you look more professional, which could result in more business.
Even if you are just starting out and you are the one who does all of the work, you can still look like a professional operation with a little preparation. A logo can set you apart from other companies and help make your business look trustworthy in the eyes of clients.
You don't have to spend a lot of money to have an eye-catching logo made. Many affordable designers can be found on Fiverr and Upwork.
4. Hand Out Flyers
Another way to get the word out on your cleaning business is to hand out flyers. One way you could do this is to go around in parking lots and put a flyer under the windshield wipers of each vehicle.
If graphic design isn't your thing, you can hire some amazing designers to create professional flyers on Fiverr and Upwork. After receiving the completed file from your designer, you can then have the flyers printed locally.
5. Magnetized Vehicle Signs
Why not turn your company vehicle into a rolling advertisement? You can if you attach magnetized vehicle signs to the side doors.
You've probably seen cars with advertisements on them before. They attract attention, don't they? That's the idea – to draw people in so they will read your advertisement and hopefully remember your business when they need someone to clean for them.
If you already have a professional logo for your business, you may be able to have magnetized vehicle signs made by a local sign company. Prices vary, so be sure to get quotes from several companies before choosing one.
6. Advertise in Craigslist
A very easy way to advertise your cleaning business is to post an ad in Craigslist. Craigslist is the largest and most popular classifieds site there is, and millions use it every month. Ads posted on the platform have a high chance of being seen by many.
7. Advertise in Facebook Marketplace
In addition to advertising your cleaning services in Craigslist, you may also be able to advertise in Facebook Marketplace, too. Facebook Marketplace makes it very easy to post ads, and people can very easily narrow the search results to only show relevant ads.
In addition to advertising in Facebook Marketplace, don't forget to see if there are any Facebook groups for buying and selling in your community. These are great places to post ads, but you may have to post a new ad once a week or so to make sure everyone in the group gets a chance to see it.
8. Talk About It
Word of mouth is a very powerful way to advertise. If you start a cleaning business, be sure to tell everyone you know about it. Talk about it!
Every opportunity you get, tell people about your business and ask them if they know anyone who needs your services. Do you have a hair appointment? Tell the person who cuts your hair. Do you have neighbors? Tell them, too.
9. Start a Referral Program
A great strategy for finding new clients is to start a referral program for your existing clients. The idea is simple. You agree to clean someone's home or business for free one time in exchange for a referral to a new client.
It's a win-win for both you and the person who referred you. You get a new client out of the deal and the person who made the referral gets a free cleaning.
Don't underestimate the power of referrals to generate new business. Recommendations from someone people know and trust are very powerful. Some businesses have been built entirely on networking and recommendations.
10. Use Door Hangers
Finally, you can also get the word out about your new cleaning business by going door-to-door in neighborhoods in your community and placing door hangers on people's front doors. Door hangers are powerful advertising tools that are hard to ignore.
A Business You Can Be Proud Of
A cleaning business is a great opportunity for many. It's a business you can start for very little money, there is demand for the service, and you may be able to eventually hire people to help you. With hard work and determination, you may be able to grow your cleaning business into something you can be proud of.
Although there may be some additional items you want to add to this starting a cleaning business checklist, the major things are covered. You can either add or subtract from it as you please or as you gain experience and develop your own personal preferences for equipment, supplies, and brands.