The Top 20 Best College Majors (For a High-Paying Job)
This post may contain affiliate links. Please read how we make money for more information.

Earning a college degree is definitely a good thing. However, it's almost shocking how many people earn degrees in fields that don't lead to good-paying jobs. And to make matters worse, many people are going deep in debt to fund their educations.
If you're going to earn a college degree, you may as well study something that actually leads to a lucrative career. And if you still have a burning desire to study history, philosophy, or fine art, then why not take a few electives in those subjects to scratch that itch? Or, if you must, minor in one of those subjects.
But, which subject should you study?
Thankfully, there are many college majors you can pursue that can lead to very lucrative careers. This article is a roundup of 20 of the best college majors that lead to careers with the highest salaries. The primary focus of the information presented is on careers that only require undergraduate degrees. When a graduate degree is required for a specific career, it will be stated.
Let's take a look now at the best college majors you can pursue – the ones that are potentially the most lucrative for the amount of education required. All of the salary information in this article was derived from PayScale.
Business Majors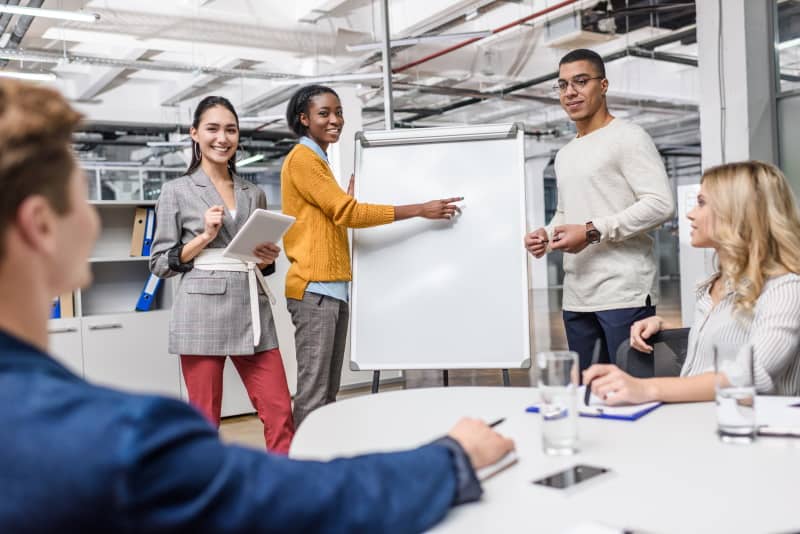 Business degrees are often considered to be among the highest-paying majors. They are also one of the best majors for undecided students because the field of business is very broad and there are many different things you can do with these degrees.
When choosing a business major, it's important to keep in mind that it's best to specialize in a specific business discipline instead of studying general business. Businesses these days prefer to hire specialists, and those with specialized skills tend to earn higher salaries.
Another factor to consider is many careers in the business world now require you to obtain a professional certification of some kind to advance. There are many professional certifications to choose from, but just a few include the Certified Public Accountant (CPA), Project Management Professional (PMP), Chartered Financial Analyst (CFA), and Certified Financial Planner (CFP).
1. Accounting
Accounting involves the processing and reporting of financial information. It is commonly referred to as the "language of business."
Accounting is a subject that can lead to many different career options. With a degree in accounting, you can work in the field of corporate accounting, offer bookkeeping services, and work for the federal government. Accountants are even employed by some organizations you may not have thought of before, like the FBI, which uses forensic accountants to investigate white-collar crime.
While there are many different paths you can take in your accounting career, the highest earners are typically those who have a professional certification – like the certified public accountant (CPA).
Salary range: $39k – $71k
Median salary: $51k
Certified Public Accountant (CPA) Salary
Salary range: $47k – $108k
Median salary: $65k
2. Finance
Finance involves growing the value of investments over time. It has to do with money management.
Like accounting, finance is also a very diverse major, and there are many different things you can do with it. This is a very common degree for those who want to work in the banking industry. The good news for finance majors is careers in this field tend to pay very well – even at the entry-level.
Finance manager is one potential career option for those with finance degrees and relevant experience. Finance managers create budgets for businesses and monitor their effectiveness. They also work directly with department managers to keep track of expenses and make sure they don't go over budget.
Salary range: $50k – $124k
Median salary: $90k
3. Marketing
Marketing is a field of study that involves promoting a company's products and services. Marketing specialists are vitally important to the success of any business. Without effective marketing, companies would not be able to build brand awareness and communicate their product offerings, thus causing them to earn much less than they otherwise would.
Marketing specialists promote products and services in many different ways. Some work for companies and focus their efforts on promoting the products and services the company sells. Others may choose to work for marketing agencies and work on marketing campaigns for many different companies.
Marketing managers have many different responsibilities. Just a few of their duties include creating estimates and budgets for marketing campaigns, reviewing advertising materials, creating advertising campaigns, and negotiating with print and media publications.
Salary range: $42k – $99k
Median salary: $64k
4. Economics
Economics is a field that studies how goods and services are produced, distributed, and consumed. Many businesses use economists to analyze customer demand for a particular product or service. They are also used to optimize pricing to maximize sales.
Business economists consider many different factors when analyzing data. Because of this, a strong background in mathematics is essential. One course that is required of most economics majors, for example, is econometrics, which typically requires calculus as a prerequisite.
Business economists are typically employed directly by companies that utilize their services. Economists are also frequently employed by the government.
Salary range: $43k – $131k
Median salary: $74k
5. Healthcare Administration
Healthcare administrators are those who oversee the operations of different kinds of healthcare facilities. They oversee hospitals, nursing homes, rehabilitation facilities, clinics, surgery centers, and others.
Healthcare administrators must be knowledgeable in both business and the medical field. Because of this, many administrators of healthcare facilities are those who first started working as a medical practitioner of some kind (nurse, respiratory therapist, medical laboratory technician, etc.) and then continued their educations in the field of business.
Healthcare administrators are responsible for many different things. They often hire and fire personnel, work to ensure the facility is profitable, and make sure the facility complies with all federal, state, and local laws and regulations.
Healthcare Administrator Salary
Salary range: $40k – $103k
Median salary: $65k
Related: Good Summer Jobs for College Students
Medical Majors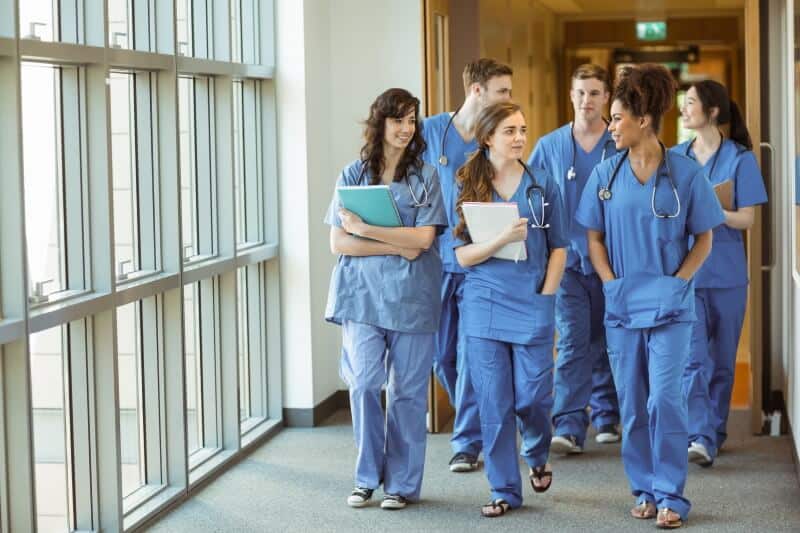 Degrees in the medical field are some of the best college majors with the highest salaries. And it's not hard to see why. Nearly everyone needs medical care at some point in their lives. Many careers in the medical field are also recession-proof. Just think about it – people always get sick regardless of how bad the economy is.
Perhaps the best thing about careers in the medical field is that many of them don't even require bachelor's degrees. That's right, in many cases, you can get started in a high-paying career with only an associate's degree.
Since the training programs for many medical careers are offered at technical schools and community colleges, you can save a fortune on tuition and other expenses. Community colleges are almost always much more affordable than four-year colleges and universities. And if you qualify for the Pell Grant, you may be able to earn your degree for free.
It's important to point out that graduating from a college degree program does not automatically permit someone to work in the medical field. To be fully qualified, it's also necessary to pass a national board certifying examination and obtain certification or a license from the state that person wishes to work in.
6. Nursing
Nursing is perhaps one of the most versatile medical careers there is. Nurses can be found working in many different environments. They work in doctor's offices, hospitals, in patient's homes (home health nursing), outpatient care facilities, nursing homes, schools, community health centers, and in other places.
In addition to working in many different areas, there are also many different types of nurses. While you can earn an associate's degree in nursing and enter the profession earning great money, you can continue your education and earn a master's degree in one of several specialties to earn even more. Some nursing professionals even earn six-figures!
Salary range: $47k – $87k
Median salary: $61k
Nurse Practitioner Salary (requires master's degree)
Salary range: $75k – $118k
Median salary: $93k
Nurse Midwife Salary (requires master's degree)
Salary range: $76k – $112k
Median salary: $93k
Nurse Anesthetist Salary (requires master's degree)
Salary range: $98k – $193k
Median salary: $146k
7. Respiratory Therapy
Respiratory therapy is another high-paying career that only requires an associate's degree. Like nursing programs, many respiratory therapy programs are taught at technical schools and community colleges.
As the name suggests, respiratory therapists are healthcare professionals who are specially trained to work with people with pulmonary diseases. They usually work in hospitals, but they may also work in sleep labs and for home medical companies.
Respiratory therapists perform many functions in the care of patients with pulmonary illnesses. They perform examinations, provide emergency care, perform diagnostic tests, implement treatment programs, and do other things.
Salary range: $41k – $74k
Median salary: $53k
8. Dental Hygienist
Dental hygiene is another great paying career in the medical field that will allow you to enter the profession with an associate's degree. These medical professionals typically work in an office setting with dentists.
Dental hygienists have specialized training and expertise in the prevention and treatment of oral diseases. In addition to cleaning patients' teeth, they also educate patients on oral hygiene. They also are responsible for taking dental x-rays, dental charting, screening for oral cancer, and other things.
Dental hygienists in the United States must graduate from a dental hygiene program that is accredited by the American Dental Association. Associate degree programs are the most common, although certificate, bachelor's, and master's degree programs are also available.
Salary range: $50k – $89k
Median salary: $70k
9. Nuclear Medicine Technologist
Nuclear medicine technologists are healthcare professionals who administer small amounts of radioactive substances and other medications for diagnostic testing and treatment. In some ways, nuclear medicine is very similar to diagnostic x-ray imaging, except it's done from the inside out. Instead of patients being exposed to an external source of radioactivity, radioactive substances are introduced internally.
Nuclear medicine technologists have many responsibilities including administering radioactive substances and other medicines for imaging and other procedures, monitoring the patient during procedures, processing images with computers, and others. Nuclear medicine technologists typically work in hospitals, but they also work in doctor's offices, diagnostic laboratories, or imaging clinics.
To become a nuclear medicine technologist, you must graduate with either an associate's or bachelor's degree in the field from an accredited college or university.
Nuclear Medicine Technologist Salary
Salary range: $52k – $91k
Median salary: $66k
10. Occupational/Physical Therapist Assistant
Occupational and physical therapist assistants are two more high-paying jobs in the medical field that you can do with only an associate's degree. Many community colleges and technical schools offer these programs.
Occupational therapy assistants (OTAs) use different treatments and procedures to help improve patients' skill levels, development, disabilities, or issues in recovery. The job of an OTA is to assist an occupational therapist in helping patients live more productive lives.
In many ways, physical therapist assistants (PTAs) are very similar to OTAs. They work closely with physical therapists to assist patients to recover from injuries and regain their full range of motion. PTAs spend a lot of time working with their patients. They help them go through a variety of exercises and stretches to help them recover.
Physical Therapist Assistant Salary
Salary range: $40k – $70k
Median salary: $53k
Occupational Therapist Assistant Salary
Salary range: $41k – $72k
Median salary: $55k
Also Read: How to Live Rent and Mortgage Free
Science, Mathematics, and Technology Majors
There are several majors in the fields of science, mathematics, and technology that are very lucrative. You can enter these professions with a bachelor's degree and then potentially increase your pay by earning a master's degree later. Master's degrees in these professions are now offered by many reputable colleges and universities entirely online.
To succeed in any of these majors, you do need a strong background in mathematics and science. Also, the majority of careers in these fields are desk jobs where you work in an office and sit at a desk in front of a computer for long periods. You do need to be comfortable with this type of work environment.
11.Computer Science
Computer science is a broad field of study that covers many aspects of computers and information systems. It is one of the best college majors for the future since many aspects of our lives are increasingly becoming more automated and controlled by computers.
Computer science degrees include many courses in both mathematics and computers. Just a few things students of these degree programs study include programming languages, control systems, information systems, automata, artificial intelligence, electronics, computer hardware, and others.
There are many different career paths you can take with a degree in computer science. Just a few potential options include cybersecurity analyst, information systems manager, database administrator, multimedia programmer, systems analyst, and video game developer. People with strong backgrounds in computer science are needed in nearly all industries.
Because there are so many things you can do with a degree in computer science, I'm including salaries for three different career paths.
Salary range: $51k – $117k
Median salary: $76k
Salary range: $45k – $109k
Median salary: $73k
Salary range: $46k – $94k
Median salary: $65k
12. Information Technology
Information technology is similar to computer science, but there are distinct differences. Whereas computer science has a heavy emphasis on mathematics and computer courses, information technology focuses on computers and technology, but it also emphasizes management and information science. The mathematics requirements for this major are usually less than for computer science majors.
There is some overlap in the careers for information technology majors and computer science majors. A few potential careers include computer network architects, information security analysts, website developers, and others.
One way to enhance your earnings potential in this field is to obtain an IT certification. Many different certifications are offered. Some of them can lead to IT careers that pay six-figures.
Computer Network Architect Salary
Salary range: $75k – $155k
Median salary: $120k
Information Security Analyst Salary
Salary range: $50k – $106k
Median salary: $71k
13. Software Engineering
Software engineering is a branch of computer science that focuses on the creation of computer software. Simply put, software engineers are those who write computer programs. Software engineers are also known as computer scientists, software developers, or computer programmers. Software engineering is a discipline that can be included in either the technology or engineering categories (or both).
Many software engineers have degrees in either computer science or information systems. However, many colleges and universities now offer degree programs specifically in the field of software engineering.
Software engineers are needed to write code for every single computer application there is. They write the code behind the video games you play, for your bank's ATM, and for the autopilot that flies commercial airliners.
Salary range: $60k – $124k
Median salary: $84k
14. Actuarial Science
Actuarial science is the study of risk in the fields of insurance, finance, and other areas. The primary occupation for this subject is that of actuary. Actuaries use mathematics and statistics to evaluate risk.
The insurance industry is one of the largest employers of actuaries. Insurance companies use these professionals to see if providing insurance coverage for specific customers makes good financial sense.
Actuaries typically major in one of several fields including mathematics, statistics, economics, finance, or business. There are also some degree programs offered specifically in actuarial science.
You can become an actuary with a bachelor's degree. A graduate degree isn't required. Regardless of your major, you will need a strong background in mathematics to be successful. Recommended courses include calculus, linear algebra, and statistics.
To become an actuary, you will also need to pass a series of exams. It is recommended that you pass at least one of these exams (and preferably two) before graduating.
Salary range: $51k – $145k
Median salary: $87k
15. Statistics
Statistics involves the collection of data, its analysis, and interpreting the results. Statistics analysis is used in many different industries including business, science, medicine, and others.
There are many different careers you can pursue with a degree in statistics. Just a few include data scientist for a medical company (biostatistician), clinical trial statistician, government statistician, epidemiologist, actuary, and others.
Salary range: $56k – $115k
Median salary: $76k
Also Read: How to Make Money from Woodworking
Engineering Majors
Engineers are those who design structures, machines, bridges, vehicles, aircraft, and other things. It's not an exaggeration to say that without engineers, the world we currently live in would not exist. Engineering degrees are among the best college majors thanks to the demand and the high salaries.
The engineering profession is a very high-paying field. And there are many different areas within the field that you can specialize in.
16. Petroleum Engineer
Petroleum engineers are those who specialize in the extraction of crude oil or natural gas. They are involved in all stages of hydrocarbon extraction including exploration, development of extraction methods, and production. They also work to reduce the environmental impact of oil and natural gas extraction.
Petroleum engineers have a lot of important duties. Just a few things they are responsible for include working with geoscientists, selecting the right equipment for a particular job, designing systems for oil extraction, managing problems when they occur, managing contractor relationships, supervising on-site operations, and others.
As a petroleum engineer, you may have to spend the majority of your time on-site. This could mean living on an oil platform at sea or a remote location like Prudhoe Bay, Alaska. As you gain seniority, you may be able to work in an office away from the extraction site. As one of the highest-paying engineering fields, however, petroleum engineers are well-compensated for the work they do.
Salary range: 61k – 170k
Median salary: $101k
17. Systems Engineer
As the name implies, systems engineers develop systems for their clients. Systems engineers are often used in the development of complex designs like spacecraft, robotics, computer chips, and others.
Systems engineering is an interdisciplinary field. They are often used in the areas of mechanical engineering, industrial engineering, electrical engineering, mechanical engineering, project management, and others.
There are very few undergraduate degrees offered specifically in the field of systems engineering. To specialize in this engineering field, you must first have an undergraduate degree in an engineering discipline like civil engineering, mechanical engineering, manufacturing engineering, or another field. You must then earn a graduate degree in systems engineering. Several reputable universities now offer these graduate degree programs entirely online.
Systems Engineer Salary (requires master's degree)
Salary range: 56k – $121k
Median salary: $78k
18. Chemical Engineer
Chemical engineers turn raw materials into many of the products we use every single day. They are behind the materials used in the clothes we wear, the tires on our vehicles, and the processed foods we eat.
Chemical engineering touches many aspects of our lives. These engineers are responsible for working with pharmaceuticals, petrochemicals, food processing, polymers, biotechnology, and many other things. For example, a chemical engineer was probably involved in the design of every single plastic product in your home, office or vehicle.
Salary range: $55k – $114k
Median salary: $74k
19. Aeronautical Engineer
Aeronautical engineers are responsible for designing many systems and components of the aircraft we fly in. Some may focus on landing gear systems, for example, while others may work on designing the wing of a new airliner. Aeronautical engineers are also used in the design of many military weapons including missiles. If it flies, an aeronautical engineer was probably behind its design.
Aeronautical engineers work for many different companies including large airliners, military contractors, and even small airplane manufacturers. They may even work directly for the government on the design and testing of new top-secret military equipment.
Salary range: $58k – $135k
Median salary: $78k
20. Marine Engineer
Marine engineers are involved in the research and design of submarines, military naval vessels, cruise ships, and other aquatic vessels. They design propulsion systems, test prototypes, and oversee the building of full-size vessels.
Marine engineers are also commonly used in the design and manufacture of recreational boats such as fishing boats, jet skis, sailboats, and others. Because of the diverse things they work on, these engineering professionals work for both government and private employers.
Salary range: 56k – 130k
Median salary: $80k
Best College Majors — Final Thoughts
Just a few short decades ago, you could major in just about anything and end up doing fairly well in life. That's because fewer people held college degrees back then. Having a degree – any degree – helped job applicants stand out when employers received a pile of resumes for an open job.
But things have changed.
These days you have to be strategic about what you major in. It's vitally important that you major in something that is both in-demand and pays well. The best college majors are those that lead to lucrative careers doing work that is meaningful and pays well enough to actually pay off the student loans you used to earn your degree.
You May Also Like: