The 30 Best Summer Jobs for College Students
This post may contain affiliate links. Please read how we make money for more information.

The start of spring each year is a time of transition for many. The leaves on the trees start to bloom again, flowers start to bud, and the smell of fresh-cut grass is seemingly everywhere, which also causes allergies to kick into overdrive. But there's another major change that occurs with the start of spring at college campuses all across the nation:
Many thousands of college students wrap up their spring semesters and start looking for summer jobs to earn some money.
For many college students, summer jobs are critical. The money they earn over their summer breaks is often used to buy things for their upcoming school year: new clothes, school supplies, and other important things that students need to get through the year.
When spring rolls around, however, most college students don't have jobs lined up. In fact, most don't even have a clue about where they will end up working. Thankfully, there are many great ways to earn money over the summer – and some of them pay very well, too.
Here are 30 of the best summer jobs for college students:
1. Lifeguard
Being a lifeguard is arguably one of the best jobs on this list. The work usually isn't hard unless you consider monitoring swimmers to be difficult. You might break a sweat at this job, but it's usually because of the heat and humidity and not because you're doing strenuous work.
The main thing you need to watch out for as a lifeguard is getting sunburned. Industrial-sized bottles of sunscreen will be needed.
To become a lifeguard, you do need to be a competent swimmer (duh). You will also have to take and pass a lifeguard certification course. There are several different organizations that offer lifeguard certification. To pass a course, you have to demonstrate your swimming abilities and possess knowledge of first aid, CPR, and the use of an AED.
One of the best things about working as a lifeguard is the lack of competition. Because this job requires professional certification, there will be far fewer people competing for available positions than for other jobs. If possible, it's best to complete your lifeguard training early to ensure you are ready to start working when the summer swimming season begins.
Lifeguard salaries vary depending on where you work.
2. Private Tutor
Is there a subject in school that you are really good at? Maybe you're a math whiz. Or perhaps English is your thing. You could even be a clarinet virtuoso.
If you're really good at a particular subject, you may be able to earn extra cash over the summer by tutoring others who are studying the same subject. It could be kids in elementary, middle, or high school, and even those in college.
Another way to tutor kids is to teach online through VIPKID, a company that teaches English to children in China. You get to work from home, pick your own hours, and it's possible to earn anywhere from $14 – $22 per hour.
To teach for VIPKID, you do need to already have a bachelor's degree. Because of this requirement, this is an option that is best for those in graduate school.
Check out VIPKID to learn more about teaching English online.
3. Bartender
Do you mix a mean Manhattan? Do you have an outgoing personality and really enjoy socializing? If so, working as a bartender might be something worth considering.
Bartenders are responsible for serving customers various alcoholic beverages. They are also responsible for ensuring that all patrons are legally old enough to drink. Due to this last requirement, you do need to be at least 21 to work as a bartender.
You may also have to complete formal training to become a bartender (bartender school). Some states may also require you to take additional courses in alcohol awareness, dealing with fake IDs, DUIs, and other issues. Check with your state to determine what formal training you will need to get started.
Bartenders usually earn an hourly wage plus tips.
4. Barista
Are you a coffee aficionado? Do you know the difference between Arabica and Robusta coffee beans? If so, then you might be able to land work as a barista over your summer break.
A barista is someone who prepares and serves different kinds of coffees to customers. Baristas typically work in coffee shops, but they can also be found in other places.
As a barista, you will be responsible for preparing a range of coffee drinks. You may also be required to serve light snacks. Although it may sound like a simple job, it does take some training and practice to be able to make coffee beverages to suit customers' preferences and to use commercial espresso machines, although some machines are automatic.
Customer service is also an important component of the job. You will be interacting directly with customers, so it's important that you have an outgoing personality. It helps to be a "people person."
Baristas typically earn minimum wage and up depending on where they work.
5. Dog Walker
If you live in an urban area with a substantial population and you love animals, working as a dog walker is a great way to earn money. These days, nearly everyone has a dog (or at least it seems like it). And all of those dogs need to be walked to, ahem, do their business.
A great place to find clients who need someone to walk their dogs is Rover. This is a website that connects those who need someone to walk their dogs with people who love animals who are looking for work. Rover can also be used for boarding dogs in your home. After creating an account, you can check out the rates of others in your area to make sure you are competitive.
Dog walkers can earn $15 to $20 for a short 20-minute walk. While this sounds great, it's important to point out that this isn't the type of work where you will be walking dogs for eight hours a day.
The work can be sporadic and can vary depending on how much free time your clients have. One day you may get to walk several dogs while the next day you may only walk one or two.
6. Pet Caretaker
This job is also for animal lovers. Pet caretakers are those who keep people's pets for them while they are away for an extended period of time on vacation or for professional reasons, like to attend a conference.
As a pet caretaker, you will need to keep enough food on hand for the animals. You will also need to spend time with the animals so they have an appropriate amount of interaction. This could also include walking the animals (in the case of dogs).
Your duties as a pet caretaker will also include keeping the animals clean and you may have some grooming responsibilities as well. Taking care of people's pets is something you could possibly combine with dog walking. The two services are very similar.
Your income as a pet caretaker will vary depending on the type of animals you board and how long you will be taking care of them. It may be possible to check with other caretakers in your community to see what they charge so you can be competitive.
7. Swimming Pool Service Technician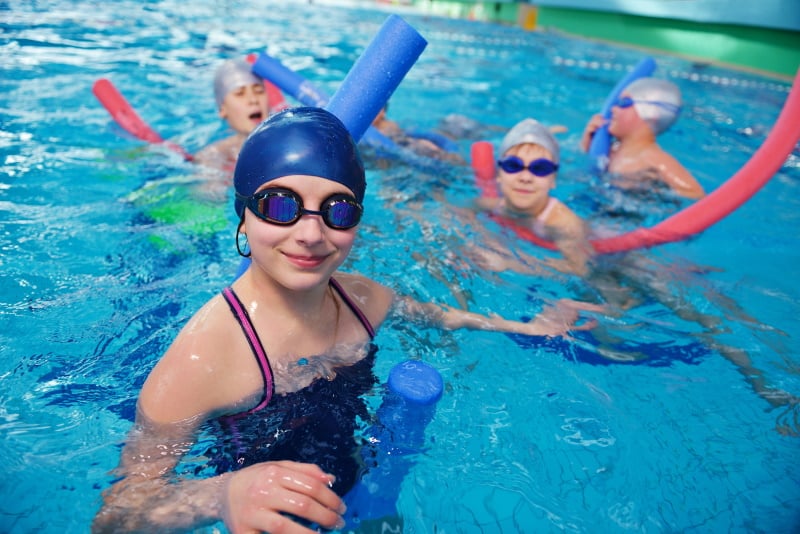 If you like the idea of working near a pool over the summer but you aren't certified as a lifeguard, you may still be able to land work as a swimming pool service technician.
Swimming pool service technicians make sure pools are kept clean by removing debris, and also by making sure the pump and filters are working properly. Technicians are employed by public and private pools, but they are also employed by companies that provide pool sales and services, too.
Certification is available for pool technicians. Some states do require it – but not all do. Check with your state to see if certification is necessary.
Swimming pool service technician pay is usually determined by experience, professional certification, and other factors.
8. Golf Course Assistant
When the ice and snow from winter thaws and is replaced by warmth and sunshine, golfers come out in droves. It's easy to see why the sport is so popular. It's both relaxing and challenging at the same time. You can take advantage of the sport's popularity by working as a golf course assistant.
Golf course assistants take care of a variety of necessary duties related to the course. They primarily make sure the grounds are properly maintained, which can be a big job. But they can also be found working in the club shop and in other areas of the operation.
There is no such thing as a typical day for golf course assistants. One day you may have to fill in for a caddy. The next day you may have to run a weed eater. And the day after that you could end up working in the pro shop. It's important to keep an open mind as a golf course assistant and be ready for whatever adventure the day brings.
Salaries for golf course assistants vary depending on where you work.
9. Tour Guide
If you live in an area where there are a lot of interesting attractions that tourists tend to flock to when the weather warms up, you might want to consider working as a tour guide. The demand for tour guides with warm personalities usually increases over the summer months, and you can take advantage of that to do some very interesting work.
In order to work as a tour guide, you do need to be very knowledgeable about the tours you are giving, so it may be necessary to learn about the history of an area before applying.
A benefit of working as a tour guide is that once you learn all about a specific tour, you may end giving that tour over and over again, which would make it easy to answer people's questions.
Tour guide salaries vary. They are usually paid an hourly wage, although it may be possible to earn more from tips.
10. Camp Counselor
When the weather warms up and kids are out of school for the summer, summer camps become beehives of activity. And counselors are often needed to make sure the kids are taken care of and stay out of trouble.
If you work as a camp counselor, you will probably be required to reside at the camp while it is in session. Accommodations are usually provided.
It's important to point out that as a camp counselor you may end up working during the day, evening, and night. Many kids like to stay up late while at camp, and because of this you may have to take care of things through the night as they occur.
You may be offered either an hourly wage or a salary for your time as a camp counselor.
11. House Sitter
Most families take their vacations during the summer months. And these days many prefer to have a house sitter stay in their homes while they are away to take care of a few things.
One reason why people like to use house sitters is as a theft deterrent. Many thieves will think twice about attempting to break into a place if it looks like someone is home. Just turning the lights on at night is often enough to keep thieves away.
Your duties as a house sitter are usually limited to some light house cleaning and yard work. You may also have to check the mail, take care of the pets, and do a few other things. In exchange for your work, house sitters have a free place to stay for the duration of their work and they also often get free access to whatever food is in the kitchen.
House sitters are usually paid a flat fee for their services.
12. Childcare Provider
Do you love children? If so, you may be able to earn money as a childcare provider (babysitter).
Childcare providers are needed for many different reasons. Perhaps a couple wants to have a nice date night without the kids. Or maybe a single parent needs someone to watch the kids while she's at work. Childcare providers may also be needed by working professionals who have to attend conferences out-of-town.
Your duties as a childcare provider are usually limited to making sure kids are entertained and stay safe. You may also have to do some light cooking and cleaning.
Childcare providers are usually paid by the hour, although some are paid a flat fee per job. Having training in CPR and first aid may help you land clients.
13. Restaurant Server
One sector of the economy that is pretty much always hiring is the service industry, especially restaurants. Restaurant servers are responsible for taking orders, bringing out food when it's ready, checking on customers, and making sure they have a positive dining experience.
There are many different restaurants that use servers — all the way from small family owned operations to chain restaurants and even high-end restaurants that cater to those looking for fine dining experiences. In some restaurants your attire may be relaxed and information, but you can expect a dress code in high-end restaurants.
Restaurant servers earn the majority of their incomes from tips customers leave for them. They do earn an hourly wage from their employers, but it is usually very small. How much you make as a server depends on the restaurant you work at and how many tables you take care of in a shift.
14. House Painter
Most people paint their houses during the summer months when the weather is warm and the paint can quickly dry. Many also like to paint their front door red or put a fresh coat of white paint on their fence. Because of this, there are usually many painting jobs available during this time.
Finding work as a house painter during the summer is usually not difficult. Many companies advertise for painters, and you can always check directly with the businesses themselves.
Another option is to offer your services as a house painter directly to clients. You can do this by taking out advertisements in your local newspaper and also by advertising on Craigslist and other places.
If you work for a house painting company, you will be paid by the hour. Working for yourself can be much more lucrative, but you will have to provide your own paintbrushes, paint, and other equipment.
15. Car Washer / Detailer
Washing and detailing automobiles can be a surprisingly lucrative venture for college students on summer break. Many prefer to hire this job out due to lack of time or because it's something they don't want to do themselves. You can take advantage of this to offer your car cleaning services to others for a fee.
There are various ways to advertise your services including Craigslist, local Facebook groups, and others. You could offer to travel to your client's residence and do the work there or have them bring their vehicles to you.
As an auto detailer, how much you make depends on your local competition. Be sure to see what other detailers near you are charging so you can be competitive.
16. Retail Sales Assistant
The summer months are usually peak sales months for the retail industry. Many students do a lot of their shopping over the summer since they are out of school during this time. The good news for job seekers is that many retail stores need to hire extra help during the busy season.
Retail sales assistants take care of many different tasks in a retail store. They can be found assisting customers, working cash registers, working in the product returns department, stocking items, and doing many other things. Depending on the store, you may be assigned a specific task, or you may have to take care of a variety of things where no two days are ever the same.
Retail sales assistants are usually paid anywhere from minimum wage and up, depending on the company and location.
17. Landscaping Artist
The summer months are when many think about doing a little landscaping around their homes. Homeowners may need someone to help them trim their bushes, plant new shrubs, trees, grass, bushes, and other things on their properties.
You could either land a summer job working for a landscaping company for an hourly wage or strike out on your own and offer landscaping services yourself. If you do decide to strike out on your own, you can advertise your services in local publications, on Craigslist, TaskRabbit, and in local Facebook Groups.
As a landscape artist, your hourly wage will vary depending on where you are located and how much competition there is.
18. Mowing Lawns
Do you have your own lawnmower and a way to transport it to various jobs? If so, you may be able to sell your services mowing lawns to homeowners in your community. The great thing about mowing lawns for money is the repeat business. People usually need to have their lawns mowed at least once a week.
Lawn mowing is hard work, there's no doubt about it, but it can also be very lucrative. Depending on where you live, you may be able to earn $30 – $50 for a small lawn that only takes an hour or two to mow. If you get just a handful of mowing clients, you could have plenty of work for the summer.
Lawn mowing is something you could offer in addition to other services like landscaping and house painting. Combining services is a great way to increase your earnings without having to look for additional clients.
19. Outdoors Maintenance Assistant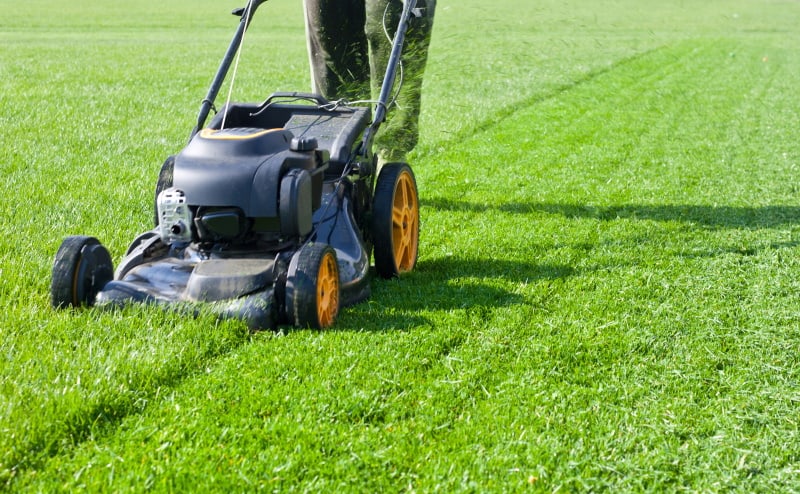 There are many companies and organizations that hire extra help during the summer months to help with their outdoors maintenance. There's even a possibility that the school you attend may need some help in this area. It never hurts to ask!
Your duties as an outdoors maintenance assistant may include mowing, removing weeds, and trimming bushes. Be sure to stock up on sunscreen!
How much you earn as an outdoors maintenance assistant depends on where you work and what your specific duties are. Another factor is the size of the organization you work for. Smaller organizations tend to pay less while larger employers tend to pay more.
20. Farm Hand
For this one, you really need to live in an area of the country where there are a lot of farms.
Many farms turn into beehives of activity during the summer months. There's always a lot of work to do on a farm, regardless of whether they raise animals or crops. In addition to helping out around the farm, you may also be required to help transport animals or harvested crops to the markets to be sold.
There are many different things you could end up doing on a farm. You could end up feeding animals, driving a tractor, watering crops, weeding crops, pulling weeds, and many other things.
Farm work is hard, and it's often dirty, too. But it can also be richly rewarding in so many ways. If this sounds like something you might be interested in, check around with various farms in your area to see if they need some help over the summer months.
21. Fast Food Employee
Working at a fast food restaurant is one of the most popular summer jobs for college students for a very good reason – fast food restaurants are almost always hiring.
As a fast food restaurant employee, you will most likely either be taking customers' orders or working as a cook. Other duties may include cleaning tables and bathrooms, mopping floors, and taking out the trash.
Working at a fast food restaurant can be challenging. It is often a fast-paced environment, and there is little room for error. The good thing about this type of job is nearly every single city and town has plenty of these restaurants to choose from. If something doesn't work out at one, there are usually others that will be glad to have the extra help.
22. Pizza Delivery Driver
Pizza delivery drivers work for pizza restaurants and are primarily responsible for delivering pizzas to customers at their homes, work, and other places. To work as a pizza delivery driver, you must have your own vehicle, insurance, and have a good driving record.
In addition to delivering pizzas, delivery drivers may also be responsible for other duties during times when pizza orders slow down like making pizzas, taking orders, and cleaning. The peak times for pizza deliveries usually occur around lunch time and after 5 pm.
Pizza delivery drivers are usually paid a base hourly wage by the restaurants they work for plus tips. Depending on how many pizzas you deliver. The more pizzas you deliver, the more you can earn.
23. Plant Nursery Assistant
Plant nurseries do the majority of their business during the spring and summer. Because of this, many of them will need extra help during your summer break.
As a plant nursery assistant, you will be responsible for taking care of the plants and flowers, maintaining the work area, and assisting customers. Nursery assistants typically earn minimum wage and up.
An important consideration if you are interested in this job is that you will be working out in the heat and humidity, so precautions should be made to stay hydrated. Also, you could also potentially spend a lot of time in the sun, so precautions for sun protection should also be considered.
24. House Cleaner
Just as many homeowners don't have time to mow their own lawns, many also don't have the time to clean their homes, too. There are also some who just don't like house cleaning. After working long hours all week long, the last thing they want to do of the weekend is clean their homes. It's just more work.
If you don't mind cleaning toilets, dusting, vacuuming floors, and other house cleaning duties, you may be able to offer your cleaning services to clients. House cleaners are usually paid a flat fee for each house they clean. Like mowing lawns, clients can give you repeat business.
As a house cleaner, you could strike out on your own and offer your services directly to clients, or you could work for a cleaning agency. Each option has its pros and cons, and its best to carefully consider each option before making a decision.
25. Non-Medical Caregiver
As a non-medical caregiver, you will be responsible for staying with an elderly person or someone who is disabled and assisting that person with her day-to-day living. You may have to do some cooking and light housework in addition to other things.
Being a non-medical caregiver is really much more than assisting people when they need a little help. It's also about being a companion to them, chatting with them, and doing activities with them, even it's just something simple like watching a TV show together.
As a non-medical caregiver, you may be paid by the hour or by the day. Some caregivers may also be required to spend the night at the home of the person they are taking care of.
26. Movie Theater Cashier / Usher
Movie attendance usually picks up during the summer months. Just think of all of the summer blockbusters that come out during this time. Because of this, there's a good chance that a movie theater in your community may need some extra help selling tickets and concessions and cleaning the theaters after each movie.
One of the best benefits of working at a movie theater is you may have the opportunity to see new release movies for free. You may even get to learn how to operate some of the projection and audio equipment. Some who work in movie theaters even get to take home free movie swag (movie posters, t-shirts, stand-ups, etc.) after a movie run has ended.
One of the best things about working for a movie theater is that a great deal of your time is spent doing nothing. Seriously. Just think about it — who sees a movie at 1 pm? Not that many people. Yes, things do get busy of the evenings, but a great deal of your "working" time will be spent waiting for something to happen.
27. App Driver
If you own your own car and have a good driving record, you may be able to earn extra money by driving for a company that offers its services through apps, like Uber, Lyft, myTaxi, and others.
To succeed as an app driver, you need to be a people person. You need to be good at striking up conversations with the people you are transporting. After each ride you give, customers will leave a review of how you did, so you always want to put your best effort into each customer you serve.
In this business, it's also vitally important that you know the area you live in very well. When someone gets in your vehicle and asks you to go somewhere specific, you don't want to have to spend valuable time punching in the address on your GPS. This will annoy the customer and could result in a negative evaluation.
28. Moving Company Helper
Most people move during the warmer months. Relocating during the winter isn't any fun and most prefer to wait for things to warm up. Because of all of the people moving during the summer, you may be able to land work with a moving company in your area.
Working for a moving company is hard work. It requires a lot of strength and a good back. You'll be doing a lot of heavy lifting, and you'll have to lift furniture, boxes, and other things up and down stairs.
Another option you might want to consider is to advertise your services as a "moving helper" instead of working for a moving company. There are many people who prefer to rent moving trucks and do as much of the work themselves to save money. But they sometimes need help lifting heavy furniture and boxes or they may need extra help boxing household items.
29. Check with Your School
A great source of potential summer work is your own college or university. This could be an ideal arrangement if you would prefer to stay on-campus over the summer. There are some instances where you may need to stay at school over the summer anyway, like when you need to take an additional class to graduate on time.
There are many different things you may be able to do including lawn care, food service work, tutoring, and others. The larger your school is, the more opportunities will be available.
One interesting job you may qualify for is giving tours to those who are considering attending your school. You get to show potential students around and tell them all about the many benefits of attending. You will be an ambassador for your school!
30. Summer Internships
Lastly, consider applying to summer internships. There are many companies that offer summer internships, and these days it's very common for them to be paid internships, too.
Internships are a great way to get valuable professional experience that you can be proud to put on your resume. It's a great introduction to the professional world and a great way to earn money over the summer at the same time.
Depending on where you live, you may have to relocate to participate in a summer internship. That means you will have to find a place to live for the duration of your internship. If you qualify for an internship, be sure to check with the company you will be working for to see if they have housing arrangements for their interns.
Summer Means Opportunity
Did you realize there were so many great options to earn money over the summer? The money is definitely there if you are willing to do the work. If you have enough ambition, you could actually earn quite a bit over your summer break.
One of the great things about these jobs is that if you do a good job with a company one summer, you may be able to land work with the same company again the following summer. It's all about the connections you make and how hard you work.