Is Nursing a Good Career?
This post may contain affiliate links. Please read how we make money for more information.

If you are currently thinking about a career in nursing, you might be wondering whether it's a good choice or if you should choose something else. Working your way through a nursing degree program, after all, can be challenging, and you want to make sure you end up in a career that is a good fit for you.
Nursing is a good career option for many. It is a career that is in-demand and pays well. The education is relatively affordable, and it's possible to enter the profession after graduating from either a one or two-year program. There are also many different career paths you can take in nursing.
Although nursing is a good career option for many, it is not ideal for everyone. Just as working as a school teacher, engineer, accountant, or airline pilot isn't ideal for everyone, working as a nurse is a career that is best suited for certain people.
If you are considering a career in nursing, it's important to consider both the pros and cons of the profession. As you read through the following list, it's important to keep in mind that it doesn't include every single pro and con there is.
It's also a good idea to talk to several nurses about the profession and their experiences. A great question to ask is: If you had to do it all over again, would you choose to be a nurse?
The answers you receive can reveal a lot.
The Pros of Nursing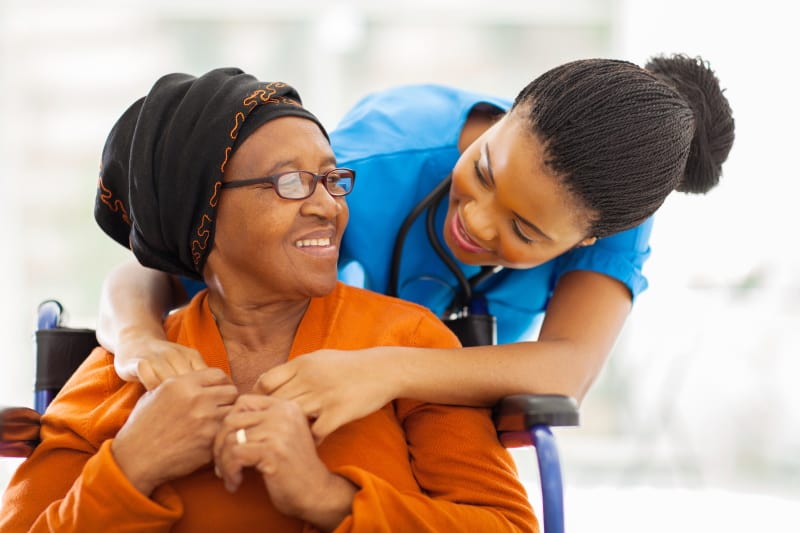 There's a good reason why so many choose to go into the nursing profession – there are many pros to the career to consider. The following are 10 common reasons why the nursing career is a popular choice for many.
1. You Don't Need a Bachelor's Degree to Start
This, in my opinion, is a top benefit of the nursing career. Although having a bachelor's degree is commonly required to start working in many careers, this isn't the case with nursing. One and two-year programs are available, and once you complete a program and pass your state licensing exam, you can start working.
You can start working as a nurse as a licensed practical nurse (LPN). Training programs are offered at many community colleges, but these programs are also offered at technical and vocational training centers. Some LPN programs are two years long, but some schools offer accelerated one-year LPN programs.
Registered nurse (RN) programs are usually two years long and are offered at most community colleges. Another great thing to consider about nursing is that all of your practical and clinical skills are completed at the associate's degree level. This means you can start working as a nurse after finishing your associate's degree and passing your state licensing exam.
If you want to continue your education, you can enroll in an online RN to BSN degree program to finish your bachelor's degree.
2. The Education and Training Can Be Affordable
A great thing about the nursing profession is that if you go through an associate's degree program at a community college, the tuition is usually much more affordable than four-year schools. And if you qualify for the PELL grant, you can dramatically lower the cost of completing your degree.
3. You Can Make a Difference in People's Lives
Nursing can be a great career if you like making a difference in people's lives. As a nurse, you will work directly with people to help them with various issues that they are dealing with. It can be personally rewarding to know that the work you do is making a difference.
4. You Can Experience New Places as a Travel Nurse
Do you have the travel bug? Does the idea of working in a location for a few weeks or months and then moving on to a new location sound exciting to you? If so, you may enjoy working as a travel nurse.
Travel nurses usually work with a travel nurse agency, and they are usually sent to places where there is a shortage of nurses.
Why work as a travel nurse?
Other than getting to live in different places and experiencing new things, many travel nurses earn more money than regular nurses. In addition, they are often paid extra to cover their lodging, meals, and other expenses.
Working as a travel nurse does have its downsides. Since all of your travel assignments are temporary, you won't have much of a chance to get to know your coworkers and others at each place you work. Also, because some of your travel assignments will be to places experiencing a shortage of nurses, some of the places you work at will not be dream destinations.
5. You Get to Wear Simple and Comfortable Work Attire
Most nurses wear comfortable nursing uniforms called scrubs. These uniforms are usually loose fitting and they are relatively affordable when compared to the attire required in other professions.
Many nurses also wear comfortable and affordable sneakers. This is an important consideration when you spend a lot of time on your feet.
6. The Compensation is Great
Is nursing a good career? It is if you like to be well-compensated for the work you do.
Money isn't everything, but it sure does help to earn a good living wage. One of the reasons why so many people consider becoming nurses is because it pays very well. According to Payscale, the average RN hourly pay is about $30 per hour. That's not too shabby for a career you can start with an associate's degree.
It's also possible to increase your earnings by furthering your education. Nurse practitioners, for example, earn nearly $100,000 a year. Nurse Anesthetists earn approximately $150,000 a year.
7. There Are Many Different Nursing Career Paths
Another great benefit of nursing is that there are many different career paths you can take. Here are a few places you could work as an RN:
Hospitals
Nursing Homes
Doctor's Offices
Outpatient Surgery Centers
Public Schools
Home Health Agencies
Medical Flights
Military Bases
You can also further your career to earn more money. A few opportunities for nurses with advanced educations in the field include:
Nursing Administration
Nurse Anesthetist
Nurse Practitioner
Nursing Instructor/Professor
Nurse Midwife
Nursing is a career that is very upwardly mobile if you are willing to put in the work to further your education and gain more experience.
8. There Is a High Demand for Nurses
Nursing is a career that is in demand. Compared to many careers, nursing is relatively stable. People don't stop getting sick and need care, for example, when the economy is in a recession. Nurses are still needed to work in hospitals, nursing homes, doctor's offices, and many other places.
That doesn't mean that nurses never get laid off. Sometimes they do. There are no guarantees in life, even in the nursing profession.
9. Job Mobility
Perhaps you discover that you don't enjoy working in a hospital. Maybe the idea of doing shift work and working weekends and holidays doesn't appeal to you very much.
As a nurse, you have options.
As previously mentioned, there are many different paths you can take your career as a nurse. If shift work doesn't appeal to you, for example, you could apply for jobs at doctor's offices and outpatient surgery centers.
Another option to consider is to specialize and become a school nurse working with kids all day long. School nurses typically work Monday through Friday and have their summers off, the same as school teachers. The pay for school nurses is usually lower than other places, but the perks of the job may be worth it to some.
10. No Two Days Are Ever the Same
Nursing may be a great career if you like a job that offers a lot of variety. If you prefer working as a drone in a cubicle farm where every day is pretty much the same, nursing may not be a good fit.
Depending on the type of nursing job you do, it can be a fast-paced career. Nurses working in emergency rooms, for example, get to see many different things every day. Workdays tend to go by quickly when you stay busy and the work is interesting.
The Cons of Nursing
The nursing profession is not without its share of cons to consider. It's important to consider the negative aspects of the career in addition to the pros to have a realistic expectation of what you can expect. The following are 10 commons cons of the nursing profession.
1. Education and Training Programs Are Competitive
So many people want to become nurses that many nursing schools have more applicants than they have positions. It's common for nursing schools to turn some applicants away.
An important negative aspect of the nursing career is that nursing programs are very competitive. Many people want to become nurses because of the great pay, benefits, and different nursing career options. Because of this, getting into a nursing program isn't always easy.
Many nursing programs require you to have certain prerequisites already completed with good grades. To help them stand out in a sea of applicants, some who apply to nursing programs gain experience by obtaining EMT training and volunteering for their local rescue squads.
2. You May Have to Do Shift Work
Another thing that some may not like about working as a nurse is that depending on where you work, you may have to do shift work. This means you may have to work evenings and nights.
You may also have to work weekends and holidays. People still need to be cared for in hospitals, nursing homes, and other places on major holidays.
In some nursing jobs, you may have to be "on call." This just means you could be called out to take care of someone if the need arises during the evenings, nights, and weekends. If you are on call, you usually can't travel far from home.
3. It Can Be Stressful
Nursing may not be a good career choice for those who prefer to avoid stressful situations. Nurses who work in emergency rooms and intensive care units, for example, have to deal with difficult situations. It can also be stressful having to take care of multiple people at once. In this field, there's no margin for error.
4. Some People Will Be Difficult to Work With
It's important to point out that not all of the people you encounter in your work will be cooperative. In some situations, people may even be combative. It depends a lot on the type of nursing work you do.
5. Nurses Aren't Always Appreciated for Their Work
Sometimes it's a thankless job. That's just the way it is. You could be a great nurse and work hard all day long and you may not even get thanked for what you do.
6. The Schooling Is Difficult
Getting into a nursing program isn't the most difficult part of becoming a nurse, it's getting through the program and graduating. Nursing school has a reputation for being difficult. It's not for those who aren't willing to put in the study time.
If you get accepted into nursing school, you will most likely spend the majority of your spare time studying. While it's possible to work a job and be in nursing school at the same time, it's not easy to juggle both. Some schools offer part-time nursing programs, but it may take longer than two years to complete one of these programs.
7. You're Always On Your Feet
Nursing may not be a good choice for those who can't tolerate working on their feet for hours at a time. Depending on how busy you are on a particular day, you may not have very many opportunities to sit down. This could be a difficult thing to deal with if you work a 12-hour shift, for example.
8. You Sometimes See Sad and Tragic Things
Sometimes nurses see and deal with some very difficult things – and you may continue to think about those things long after your shift ends and you go home. This is an important thing to consider for those who prefer to leave their work at work and completely disconnect after they clock out.
9. You May Experience Burnout
Burnout in the nursing profession is a very real problem that many nurses face at some point in their careers. It's a demanding job, and you don't always get thanked for the work you do. Burnout can lead to dreading going in to work, becoming easily annoyed at work, decreased compassion, and other things.
As previously mentioned, a great benefit of the nursing profession is the diversity of career paths you can take. Those experiencing burnout in their current roles may consider taking a different path in their nursing careers to give them a fresh start.
10. It Can Be Physically Demanding
Another negative thing about the nursing career is that you sometimes have to do some heavy lifting. Many nurses who work in hospitals and nursing homes, for example, have to lift people when they are being transferred from a bed to a wheelchair. Lifting heavy people could be difficult for those who are not physically strong.
Nurses Are In Demand
Whether nursing is a good career for you or not depends on many different factors. There isn't a single career that is a universally good fit for everyone.
On one hand, the pay is great, the career is diverse with many possible career paths, and there is usually good demand for nurses. On the other hand, it can be a stressful and sometimes thankless job. The work is often difficult and demanding and you may have to work long shifts where you are on your feet a lot.
As previously mentioned, if you are considering a career in nursing, definitely take the time to talk to some nurses to ask them what they consider to be pros and cons of the profession. Ask them if they would choose the same profession if they had to do it all over again.
Another thing to consider if you are thinking about a career in nursing is to take an EMT class and volunteer for a local rescue squad. Although the work you'll be doing in EMS isn't exactly the same as nursing, it will give you some valuable experience so you can decide if you want to continue working in the field or do something else.
Nursing isn't just a job – it's a career. If you become a nurse, you'll be joining a highly-respected group of people who work hard to make the world a better place. For some, nursing is much more than a job – it's a calling.