20 Side Jobs for Nurses to Earn More Money
This post may contain affiliate links. Please read how we make money for more information.

Nursing is a very lucrative career. That's why getting into most nursing programs is so competitive. Nursing pays well, and there are many different paths your career can take with a nursing degree. Who wouldn't want a piece of that pie?
As much money as nurses make, sometimes it isn't enough to make ends meet. This is especially true for many single parents. Adulting can be hard, and taking care of the never-ending monthly expenses can be challenging and frustrating.
There's the mortgage or rent, student loan payment, car payment, insurance, utilities, groceries, and on and on it goes – a never-ending cycle of bills – or so it seems.
If you are a nurse who is thinking about taking on a side job to earn more money, you do have options. You have valuable skills that you can use to earn money in other ways. You can take on a side job, or you can start a business you operate on the side.
Let's take a look at 20 side jobs for nurses you may be able to do in your spare time to earn more money. Some of these opportunities are related to the nursing profession, while others are not.
1. Teach CPR / First Aid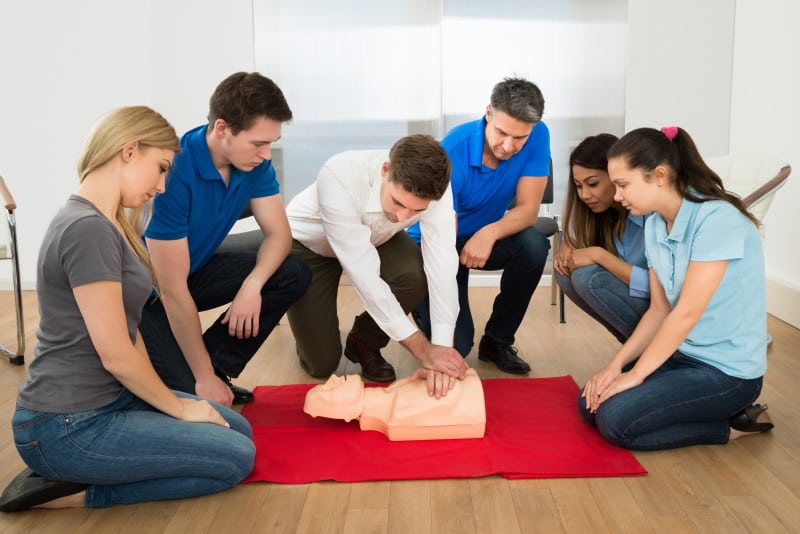 CPR and first aid are subjects that are taught at community centers and community colleges all across the nation. Teaching these courses isn't difficult, and it doesn't require much of your time, either. CPR, for example, is a subject that can be taught in a day.
To teach these subjects, you will need to acquire a teaching certification, which can be obtained from either the American Red Cross or the American Heart Association.
There are other courses you may be able to teach, too. Who says you have to limit it to just CPR and first aid? Other short courses you may be able to obtain certification to teach include:
AEDs
Basic Trauma Life Support (BTLS)
Advanced Life Support (ALS)
Pediatric Advanced Life Support (PALS)
Lifeguard training
CNA training
Swimming and water safety
Teaching CPR can be lucrative. It just depends on how many students you teach at a time and how much you charge. The average cost to take a CPR class is $25 – $60, and the average CPR class lasts 6 – 8 hours. If you only charge $25 and you have 30 students, for example, that's $750 for one day of work.
Not too shabby if you ask me.
2. Sell Products on Amazon
Another great nurse side job to consider is to sell products on Amazon. Technically, this is a business that someone can operate on the side and is not a job.
Many don't realize that a lot of the products that are sold on Amazon are actually sold by small businesses, many of which are operated out of people's homes. They are small "mom and pop" operations.
It's actually easier to sell products on Amazon than what you might think through the company's Fulfillment by Amazon (FBA) program. This program (if you are approved for an account) lets you ship your products to Amazon's warehouses where they will be stored until someone places an order.
Your products are then listed for sale on the company's website. When someone buys one of your products, the company takes care of shipping it to the customer. There is a monthly fee to participate in the FBA program, and the company also takes a percentage of each product you sell as a commission.
To get started selling products on Amazon through its FBA program, it's best to learn how to do it from others who have already achieved success on the platform. The Proven Amazon Course is an online course that walks you every step of the way from setting up your account, sourcing inventory, shipping your inventory to Amazon, and growing your business.
The Proven Amazon Course is one of the most popular and successful courses on Amazon selling that there is. Many successful Amazon FBA sellers got their start with this course and were able to build their FBA businesses into full-time operations.
How successful you are as an FBA seller depends on many different factors like choosing the right products to sell, how much time and effort you devote to the business, and others.
Check out the Proven Amazon Course to see how you may be able to earn money with this side hustle for nurses.
3. EMT Instructor
Teaching emergency medical technician (EMT) courses is another nursing side job to consider.
EMTs are important first responders who are on the front line of emergency medical care. They are often the first people many encounter when they are having a heart attack, stroke, or they are in a car wreck or some other accident.
If you are a registered nurse and an EMT, you may be able to become qualified to teach EMT courses in your community. Many people would be interested in taking these courses, not just those who work in EMS. There are some industries, for example, that keep EMTs on staff in case something happens at work.
If you are interested in this opportunity, be sure to check with your state's department of emergency medical services to see what the requirements are to become an EMT instructor.
4. Freelance Health and Wellness Writer
As a nurse, you have highly specialized knowledge in the areas of health, wellness, and the medical field. If you are someone who enjoys writing, you may be able to turn your skills and knowledge into a side hustle you can do from home, the library, and other places.
Many companies use freelance writers to write their blog posts, website content, advertising materials, and other important things they use to attract new readers with the intent of converting them into paying customers. Writing is a form of marketing, and it's highly valuable to these companies.
Freelance writing can be a side hustle you do in your spare time. If you really enjoy doing it, however, it's possible to grow it into a full-time business. It depends on your goals, how hard you work, how good of a writer you are, and how well you market your writing services.
5. Caregiver
Being a caregiver for someone who is elderly or in need of living assistance is another side job for nurses to consider. As a caregiver, your job will be to help out with things around the house. You may have to do some light housework and cooking, for example.
You may also have to help the person you are taking care of with some personal things like getting dressed and undressed, bathing, getting in and out of bed, and other things.
As a caregiver, you could arrange to stay with a person during the day, but it's also possible to spend the night at your client's home and assist them of the evenings and through the night when friends and family members go home.
6. Virtual Assistant
Another potential side job as a nurse to consider is to start a virtual assistant business to help businesses out with various things.
Virtual assistants take care of many different tasks. They may help one business out with customer support issues. For another client, they may process online orders. And for another company, they may do some bookkeeping and data entry.
Virtual assistants, as the name implies, work virtually or remotely. They don't have to be physically present in an office somewhere. This is another opportunity you can do from home, or you can take your laptop somewhere else where there is an internet connection.
Being a virtual assistant is a great side hustle, but it's also possible to turn it into your full-time business if that's something you are interested in. To earn more money as a virtual assistant, you continue marketing your services to land more and more clients.
Kayla Sloan is a successful virtual assistant who now helps others start and grow their own virtual assistant businesses with her online course $10k VA. Kayla started her virtual assistant business just a few short years ago and now earns six-figures working from home on her own terms.
Check out $10k VA to see how you may be able to earn money from home as a virtual assistant.
7. Medical Coding
Medical coding is a great side hustle for nurses because they will already be familiar with the medical terminology. The job of a medical coder is to classify medical diagnoses with their respective billing codes for billing medical insurance.
The one drawback to this side hustle is that to work as a medical coder, you have to become certified in the profession. Online courses and training are available. It's also possible that your local community college may offer a program, so be sure to check there.
8. Blogging
Another side job as a nurse to consider is to start a blog. You may not realize it, but many bloggers earn full-time incomes from the articles they write and publish on their blogs. They may earn money from advertisements, commissions from product recommendations, from sponsored posts, and from digital product sales.
There are many different subjects you could blog about. Some of the more popular ones include finance, health and wellness, raising kids, homemaking, arts and crafts, and others.
As a nurse, one idea is to start a blog about nursing. You could write all about the nursing profession, the different career paths nurses can take, and the pros and cons of being a nurse. There are many possibilities.
To start a successful money-making blog, you can't just wing it – you need a plan. You need someone to guide you every step of the way to make sure you set up your blog correctly and people can find the articles you wrote. There are many pieces of the blogging puzzle. Just a few include:
Setting up your blog (blogging basics)
Designing your blog (theme design)
Choosing a winning niche
Search engine optimization (SEO)
Monetization methods
Alex Nerney and Lauren McManus are a couple who started a blog to earn money a few years ago. They now earn six-figures from their blogging efforts. In addition to operating their successful blog, they also teach others how to start and run money-making blogs of their own. The courses they offer include:
Launch Your Blog Biz for those who are just getting started.
Pinterest Traffic Avalanche is for driving traffic to your blog through Pinterest.
Six-Figure Blogger is for those who are ready to take their blogs to the six-figure income level.
The Pro Blogger Bundle includes all three courses for a discounted price.
9. Telehealth Nursing
Thanks to modern technology, there are some healthcare-related things that nurses can do over the phone, internet, or by video conference. This is referred to as telehealth nursing.
The great thing about telehealth nursing is that it doesn't matter where your patients are located as long as they have access to the technology needed for you to monitor and communicate with them. They could be at home, in prisons, at doctor's offices, at work, and other places.
Telehealth nurses can be used to triage patients in emergencies. They can also be used to check in on existing patients from a distance to monitor their oxygen levels, heart rates, respiration, blood glucose levels, and other things.
10. Flip Used Products on eBay
Are you someone who enjoys shopping for great deals on used items at thrift stores, yard sales, auctions, flea markets, and other places? If so, you may enjoy flipping used items for profit on eBay.
If done correctly, flipping used products that you source locally and sell on eBay can be lucrative. Some people earn full-time livings doing this. The key is to find great deals on things that sell for over $100 (or more) each. You can make more money with less work, for example, by sourcing something for $50 that you can sell for $250 than you can by sourcing things for $10 that you can sell for $20-$30.
Thanks to modern technology, you don't even have to leave your home to look for products to flip. You can check listings on Craigslist, Facebook Marketplace, OfferUp, and other online buy and sell sites. Be sure to check often as new products are posted daily.
If you are interested in learning how to get started with this side hustle for nurses, Flipper University is an online course that teaches you everything you need to know about the flipping business. You'll learn how to get started, how to source products, how to find free products to flip, and other things.
Check out Flipper University to see how you may be able to earn extra money by flipping used items on eBay.
11. Medical Transcription
A medical transcriptionist is someone who listens to audio recordings of medical reports and transcribes those recordings into written reports. This is a flexible side hustle that you can do from home or from other places that have an internet connection. Depending on the company you work for, you may be able to do transcribing work when you have free time instead of on a rigid schedule.
To become a medical transcriptionist, you will have to become certified to land work in the field. Online training programs are available.
12. Proofread Court Reporters
Are you someone who is a stickler for good grammar? Do you know what an Oxford comma is? If so, you might be a good fit to proofread work done by court reporters.
To understand why court reporters use proofreaders, it's necessary to understand how court reporters work. Court reporters are usually paid for each case they report on. In other words, they are paid for the finished work they submit and are not paid by the hour.
The more cases court reporters report on, the more money they can make. They use proofreaders to free their time so they can report on more cases.
The great thing about this type of work is that if you do a really good job for a client, there's a good chance that the client will continue to use your services. This means you can obtain repeat business from a client without having to continually market your services.
Caitlin Pyle is someone who started proofreading for court reporters a few years ago. She now does it full-time. Caitlin also helps others start their own proofreading businesses in her Proofread Anywhere course.
If you are interested in learning more about this opportunity, Caitlin offers a free online webinar where she goes over the proofreading business and how you can get started.
Check out the Proofread Anywhere webinar to see why this is such a flexible opportunity.
13. Tutor Nurses-In-Training
Another side hustle for nurses to consider is to tutor nursing students. Nursing is a challenging subject, and many students could use someone to help them understand concepts, learn skills, and remember facts and figures they will need to know for their exams.
Tutoring is something you can do from home, or you can arrange to meet your students in their homes. Another option is to meet in a neutral location, like a public library.
One negative thing to consider about this opportunity is that you may run into scheduling conflicts. You will have to find a time to meet with students that works for both you and your students' schedules. This may be difficult if you work during times when students are not in school. Most nursing students attend classes of the day and have their evenings and weekends off.
14. Virtual Bookkeeping
Working as a bookkeeper from the comfort of your home is another side hustle you may want to consider if you are a nurse. Many small and mid-sized businesses use virtual bookkeepers to maintain their financial records for them. It's actually cheaper for many businesses to use the services of virtual bookkeepers instead of hiring full-time bookkeepers.
As a nurse, you could choose to specialize in serving businesses in the healthcare industry. Just a few businesses you could offer your bookkeeping services to include home health agencies, doctor's offices, rehabilitation service providers, medical rental companies, ambulance services, and others. You could also accept work from other types of businesses. It's totally up to you.
The great thing about bookkeeping is that you don't need a degree in accounting to do it. You just need to have a working knowledge of bookkeeping and bookkeeping software. These are things you can learn in your spare time.
If you are interested in learning more about starting a bookkeeping side hustle, Bookkeeper Launch is an online course that teaches you everything you need to know to start and run your own virtual bookkeeping business.
Check out Bookkeeper Launch to see how you may be able to earn money with this opportunity.
15. Teach Nursing Courses
This is another teaching opportunity you might want to consider if you are looking for nurse side jobs. This job requires that you have at least a master's degree in nursing.
It may be possible to land a part-time teaching gig at your local community college or four-year college teaching one or two nursing courses of the evenings or weekends. No guarantees, of course, but it never hurts to check with the department head to see if they need an additional instructor for an upcoming semester.
Another possibility is to check with your local skills training center or vocational school to see if they need any help with their LPN and CNA programs. They may need some help with skills assessments or overseeing students when they are doing their clinical rotations.
16. Per Diem Shifts
A per diem shift is when there is a sudden need for someone to work a shift that was not planned. They are also referred to as PRN shifts. A PRN shift could occur, for example, when someone calls in sick and they need someone in a pinch to fill in.
There are many medical facilities where you can sign up to work PRN shifts on top of your regular schedule. It may also be possible to sign up to work PRN shifts working somewhere else.
The main thing about PRN shifts that many don't like is that there is no consistency in the scheduling. One week you may have to work several PRN shifts, while the next you may not work any. That's the nature of this type of work. It's on an as-needed basis.
17. Rent a Room on Airbnb
Do you have an extra room in your home that you could rent out? Maybe you own a condo, mobile home, or some other residence that you are currently not using. If so, you may be able to rent it out by listing it on Airbnb.
Airbnb is a popular website for travelers who are looking for lodging. Sometimes people are looking for something more affordable than the local hotels. They may be fine with a simple room and a bathroom in someone's basement.
Other renters may be looking for more, like the possibility of renting a home for a few days. If you have a large family, for example, it can actually be cheaper to rent a home with 3-4 bedrooms than it is to rent several hotel rooms.
With Airbnb, you can rent your home whenever you want. There is no minimum or mandatory times you have to participate. If you want to go on vacation, for example, you can block off those dates.
Airbnb also lets you set your own rates, or you can use its pricing tool to help you set a competitive rate for the area you live in. You can also add a cleaning fee if you prefer.
Over two million people host on Airbnb, and there are millions of potential customers on the site looking for a good deal on lodging. Maybe some of them will see your listing and book with you.
Creating a listing on Airbnb is very easy. The site guides you step-by-step and asks questions that guests will want to know when booking.
18. Sell on Etsy
If you are someone who loves to make crafts, you may be able to sell them on Etsy. With Etsy, you can set up an online store on the platform where you sell your custom creations. It's important to point out that there are fees to sell on Etsy – it isn't free.
The great thing about Etsy is that there are millions of shoppers on the platform who are looking for handmade crafts, antiques, and other items. Perhaps some of those shoppers might find and buy your products.
There are many different crafts you could make and sell on Etsy. Just a few ideas include wreaths, custom jewelry, art, clothing, wedding decorations, toys, and others.
Another possibility is to create custom crafts for nurses. You could, for instance, create and sell mugs with funny sayings on them about the nursing profession. There are many possibilities.
19. Health Coach
A health coach is someone who is an advocate for healthy living. They instruct people on healthy eating, exercising, and other habits that improve people's health and lives. This should come very easily for most nurses due to their training and experience.
Health coaches work with individuals, but they can also work with groups of people. Some companies hire health coaches to establish and run workplace wellness programs for their employees.
To become a health coach, you will need to obtain certification as a health coach. It can take anywhere from three months to a year to complete a certification program.
20. Realtor
A popular side hustle for nurses (and for those in other professions) is to be a realtor. A realtor is someone who works as an agent in the buying and selling of properties.
Realtors can work for both buyers and sellers. As a buyer's agent, a realtor shows properties that are for sale to buyers and helps buyers negotiate good deals. As a seller's agent, a realtor lists properties for sale and makes sure they are presented in a way that catches potential buyers' attention.
To become a realtor, you will have to take a course and pass an exam. Be sure to check with your state to see what's required if you are interested in this opportunity.
Opportunities Abound
There are many ways that nurses can earn extra money outside of their jobs. The opportunities are definitely there. Even if you typically work when most people are asleep, it's still possible to earn some extra money on the side.
Some of the opportunities mentioned in this list do require you to take a class and become certified or licensed. If you are considering one of these opportunities, be sure to check with the state authority or organization that oversees it to see what the requirements are to become certified or licensed. It may vary depending on the state you live in.
Being a nurse is a richly rewarding profession in many ways. The work you do can literally change people's lives for the better. With all of the nursing side jobs available, you will always have options to earn more money should the need arise.